Simmonds travels the world on the way to Tokyo
Ellie Simmonds has been the face of British Para-Swimming since becoming a teenager so it is no surprise she enjoyed the sabbatical year that allowed her to be more than just an athlete.
Now 24, Simmonds has returned to the pool after taking year off following Rio 2016, her third Paralympics.
During that time she travelled extensively and gained perspective on her sport and her life outside it.
She explains: "The year off, I was able to be a normal 22-year-old and live that life, rather than just being an athlete.
"It's definitely opened the doors, coming back into the sport, that it is just swimming. If a session doesn't go well it's not a life or death situation. There is so much more out there in the world that is more important.
"I love swimming and I'm so happy doing it but it's just sport. It's not the end of the world and I think that's really helped me mentally. I've achieved what I wanted to do. Watching the Athens Paralympics in 2004 and seeing Nyree (Lewis) get gold, and when I was nine that was my dream to get gold.
"I've come away so far with three Games and got that gold medal. Whatever comes now is just a bonus. The opportunities that swimming has given me and being a Paralympian, meeting loads of people. Even if I walked away tomorrow, I'd know I've achieved a lot. "

Simmonds was thrilled at winning in Glasgow
It was not just one gold medal that Simmonds picked up, she has five to her name and will look to add more in Tokyo next year.
To do so she took the step of moving to London from Loughborough after her year off, splitting her training between the Aquatics Centre in Stratford, where she won double gold in London, as well as in Swiss Cottage.
Simmonds has reunited with former coach Billy Pye, and will now get the chance to compete at her home pool at the World Championships in London in September.
She booked her place with some fine performances at the World Para Swimming World Series in Glasgow last month, coming within half a second of her British record in the 400m freestyle. And Simmonds is relishing her time in the capital.
She added: "I've been in London for over a year now. After Rio and taking the year out, I decided to come to London. I've always wanted to live here.
"With the opportunities, my agent is based down here, sponsorship and other opportunities, it made sense. With Billy Pye we wanted to give it one last hit at the London Aquatics Centre in Stratford, at the Olympic pool.
"It brings back memories being in Stratford but also because I'm there every day, you forget as well. It's my home pool so I forget what I achieved there and what London did with the Olympics and the Paralympics. There are familiar surroundings but it's nice from time to time to take a step back and remember what happened there.
"Six years ago now, we hosted the Olympics and Paralympics so to be able to use the facilities is amazing. It was my best Games, I had an incredible summer, I swam the best I've ever swum. To be able to train in such a fast pool, I'm so lucky."

Simmonds' performances in Glasgow are testament to the work she has put in since getting back in the water.
In 2018 she won a pair of silver medals at the European Championships in Belfast, and now focused on a trio of events – the 400m free, 200m medley and 100m breaststroke – Simmonds admits it has been a slog getting back up to speed.
She said: "It was hard getting back in. It was really hard to get back into form because as an athlete I'd trained every day in the pool, and taking a year out from it, I thought I was going to get back to Rio standards straightaway and it wasn't easy.
"It took a lot of hard work and effort and I'm starting to get back in training to the times I was doing when I was in full training. Mentally as well, I went to Beijing when I was 13 and Rio was my third games. I think I just needed that mental break from it all."
"In the year off what was nice was that people wanted to know me for who I am, not just what I do."
The added perspective from her travelling certainly helped, rediscovering places she had not been able to truly appreciate while competing.
"In the year off what was nice was that people wanted to know me for who I am, not just what I do," she added.
"I love getting recognised and everything that comes with it, but sometimes people just want to know me for my swimming. I'm a 24-year-old woman.
"I think the highlight of my travelling was just meeting people. Some of the places when I was on my own, the variety of people and being out of your comfort zone. I was in Alice Springs in Australia and remember just talking to this family and they ended up inviting me to their home for dinner and sitting round their fire chatting away to them.
"There are so many nice people out there who are so welcoming. The people I got to meet and just seeing the world, Uluru, seeing Sydney, Cape Town, it gave me a travelling bug. When I retire from my sport I definitely want to travel more."
Simmonds has already started a bucket list which features swimming with humpback whales, a road trip around America and camping under the stars.
Before then, she has the twin targets of the World Championships in her home pool and then a fourth Paralympic Games in Tokyo.
With her new-found perspective and her recent form, Simmonds is primed to meet those challenges head on.
Joint the ParalympicsGB movement
Join
The ParalympicsGB movement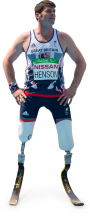 We may include relevant updates from our trusted partners, but will never sell your data on. We take your privacy seriously and you can opt out at any time Privacy Policy