Powell ready for IBSA Judo World Championships after five year break
Paralympian Dan Powell has stepped away from the track and back to the mat after a five-year hiatus, and is now gearing up for the IBSA Judo World Championships.
He will be representing his country as a judoka for the first time since he switched sports in 2013 following London 2012, where he finished seventh in the -81kg.
Since then Powell had focused on athletics, and even set a new British record as a T11 400m sprinter.
But now he has returned to his family sport - his father Terry is a two-time Paralympic medallist, while his brother Marc also competed on the mat in London - and the 27-year-old is certainly riled up and ready for the worlds in Portugal.
"There's a lot of good judo players in my weight but I personally don't think there's many who can deal with a proper scrap," he said.
"There's a lot of lads who are just a bit soft. I know I'm going to be the fittest one there"
"I might not have the best judo but I'm definitely going in the fittest and with the mentality I can have a scrap for four minutes.
"If anyone wants a proper fight, I'll have one for four minutes. Within the rules of judo of course!"
Powell had given up judo as he was struggling with being away from his family.
After growing up in Liverpool, he moved to Dartford for judo training, staying there until 2013.
But after less than a year back home he found himself seeking a new challenge, and chose athletics by virtue of the sport's ease of access.
Powell said: "The only thing on bus routes from me was the athletics club in Wavertree.
"It was good fun but then in athletics there is the frustrations of dealing with hundredths of a second.
"You might train so hard for six or eight months and make a hundredth of a second either way, all the training could be for nothing."

Dan Powell in action at London 2012
Powell got back into judo while coaching youngsters at an amateur event earlier this year.
He had been helping at a club near his home in Loughborough, where he lives with partner and four-time Paralympic medallist Libby Clegg.
"I was helping out doing some coaching at an amateur judo club and just enjoying it again. I was giving back a bit and I did not have much on a Thursday night," continued the judoka.
"I went to a competition on a Sunday to support the kids, do a bit of coaching on the day and the head coach of the club turned round and said there's some adults there if you want to jump in.
"I just thought 'go on might as well.' I won the competition that day and it was a real buzz."
Powell upped his training and is now spending three days a week part of the Great Britain squad in Walsall, where he practices alongside junior world champion Jack Hodgson, 22, who is set to feature at the World Championships in the 100kg+ division.
He is on the way back after undergoing elbow surgery earlier this year, after injuring himself fighting with a coach during training four months ago.
When it happened, Hodgson was unsure if he would make it to the worlds, and was understandably devastated by the news.
He said: "When it happened I thought I was alright so kept fighting for another week, eventually got the scan done and it was the worst it could be.
"At that point I didn't think I would be going to the worlds, I thought that was me done.
"It was heart-breaking, I'm not ashamed to say I walked out in a few tears."
"Once you reset yourself and say you're four months away, I can still make that if I do everything perfect."
Hodgson admits he has been lucky to make the squad for the championships, conceding that he won't be fighting at 100 per cent.
But he is still determined to make it a success.
"I'm not really supposed to be there so to step on that mat is a massive achievement for myself and for all the guys here we always said there was a small chance of going there," added Hodgson.
"It's my expectation to go, fight my best, not to get hurt, enjoy myself and come back with a piece of metal hopefully."
The World Championships represent the first chance to gain qualification points for Tokyo 2020, so it isn't just medals that are up for grabs.
The squad includes two-time Paralympic medallist Sam Ingram in the -100kg, who took home silver in London and Bronze at Beijing in 2008.
He moved up from the -90kg weight class last year and has shown his quality winning gold at last year's world championships in Uzbekistan, and silver at the Antayla IBSA Judo World Cup in April.
Natalie Greenhough (-70kg) and Chris Skelley (-100kg) add more Paralympic experience to the team for the championships.
There will also be world championship debuts for Connah Anders (-66kg), Evan Molloy (-73kg) and Elliot Stewart (-90kg), giving them a chance to take on the best in their respective weights.
The championships take place in Odivelas, Portugal from 16-18 November.
Joint the ParalympicsGB movement
Join
The ParalympicsGB movement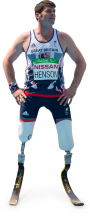 We may include relevant updates from our trusted partners, but will never sell your data on. We take your privacy seriously and you can opt out at any time Privacy Policy