ParalympicsGB's tips for fundraising online
Online fundraising is one of the easiest ways to spread your message and start gaining sponsorship. Here you will find some handy hints and tips about how to best promote your ParalympicsGB fundraising campaign online and on social media.
Setting up your Giving Page
Firstly, you will need to set up an online sponsorship page. We would recommend Virgin Money Giving or Just Giving. Both websites will have prompts to help guide you through the process. Three key things to remember are:
Use a profile picture.
Tell your story. Share your motivation for fundraising for ParalympicsGB.
Set your target. Set a challenging goal and remember that you can update it throughout your fundraising journey.
Managing your Giving Page
Once you are set up online it is good practice to keep checking and updating your page. This can include photos of you reaching training milestones or updates on events you are putting on. You will also be able to see who has supported you and send them personalised thank you messages.

Menna and Jen pose for a selfie with Clare Balding
Update your work email signature by putting a short sentence about your fundraising challenge and linking through to your Giving Page.
Make sure you include it on any fundraising materials you create. It is a good option if you host a fundraiser where you would typically collect cash donations as people have the option to donate digitally.

Share on social media channels.

ParalympicsGB swimmers take a selfie at the Rio 2016 homecoming parade
One of the best ways to get your sponsorship across to lots of people will be to use your own social media. Kevin Crowe, our digital specialist at ParalympicsGB has the following advice:
"Social media is the best way to keep your followers updated with your fundraising journey. Initially make sure you introduce your fundraising by sharing your story and what it is your planning on achieving. Remember to keep it personal and in your own words.
"Regularly update with posts about your preparation. Use great photos of you reaching training milestones if you are competing in a challenge event, or preparations before an event. If you are selling tickets to an event, make sure you give people at least one month's notice.

Say cheese: Ellie Simmonds, Kare Adenegan and Ellie Robinson capture the moment
"Photos and videos will make your posts perform better and reach more people. They also make people feel more connected to your journey, which will help your fundraising.
"Make sure to tag ParalympicsGB in your posts using the social handles below. And we'll try to like and share your updates.
"If you aren't on social media, don't worry! One of the most successful approaches is to share your fundraising with work colleagues through email. You might want to send the initial email on, or after, pay day as your colleagues may be feeling a little more generous…"
Instagram: @paralympicsgb_official
Facebook: @ParalympicsGB
Twitter: @ParalympicsGB
LinkedIn: British Paralympic Association
Joint the ParalympicsGB movement
Join
The ParalympicsGB movement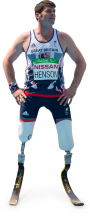 We may include relevant updates from our trusted partners, but will never sell your data on. We take your privacy seriously and you can opt out at any time Privacy Policy