ParalympicsGB partner spotlight: Dreams
In 2020, Dreams became ParalympicsGB's first ever Official Sleep Partner and will continue to join us through until Paris 2024. Our partnership has got off to a hugely successful start, with Dreams winning three European Sponsorship Association awards, including the coveted Sponsorship of the Year Award, in recognition of their successful Tokyo 2020 campaign which was centered on the Power of Sleep.
Dreams know how vital good sleep is, with 98% of ParalympicsGB and TeamGB athletes agreeing that sleep is important to their performance. Dreams wanted to use the campaign to inspire fans to improve their own 'sleep performance'. This was a clear thread throughout the campaign that sat across TV, social, audio and PR plus had an in-store activation element.
To draw everyone into the campaign, Dreams created a series of bedtime stories that featured their Paralympic and Olympic Dreams Team athlete ambassadors, including Paralympians Jordanne Whiley and Ali Jawad. Dreams knows all about the importance of bedtime reading for children, which you can find out more about here.
The stories which were written in collaboration with our athletes take you through their journeys from being determined children to becoming successful, professional athletes. They produced the stories in the format of read-along animations, PDF downloads and audiobooks. You can watch Ali's below:
From a very early age, Ali Jawad never let his disability get in his way. And with the help of his friends, family, and a very special coach, he followed his dreams and became a Paralympic powerlifter.
Ali Jawad's Paralympic Dreams
At the young age of 14, Jordanne Whiley became a wheelchair tennis champion. From there, she chased her dreams wherever they took her. From Wimbledon, London, Rio and now to Tokyo. Watch Jordanne's video.
Beijing 2022 Winter Paralympic campaign
Seeing the success of their Tokyo bedtime stories, Dreams wanted to continue this through their Beijing 2022 Winter Paralympic campaign. This time they profiled their Beijing Winter Paralympic Ambassador, Mille Knight. Millie is a visually impaired downhill skier and Dreams wanted to make sure that the book and accompanying materials were as accessible as possible to those with vision impairments. Dreams worked with the RNIB and ParalympicsGB to create this book which has a braille translation and is available as an audiobook too.

Millie Knight's bedtime story
Millie was so excited about the release of her book and had this to say; Millie Knight, ParalympicsGB medallist and Para-Alpine Skier comments: "I'm so excited that Dreams has turned my Paralympic journey into a children's bedtime story, and I'm even more excited they have translated it into braille to make it accessible to visually impaired children. I would have loved to read, watch and listen to a story like this when I was still a child with dreams of becoming a Para-Skier, and I hope this helps the next generation to sleep soundly and dream big."
We're looking forward to working with Dreams through until Paris 2024 and can't see what big ideas they dream up next!
David Clarke, Royal National Institute of Blind People (RNIB) Chief Operating Officer, said: "We are really excited to collaborate with Dreams, offering our expertise and support to share Millie's incredible story across the country in the form of a braille book, so that blind and partially sighted book lovers can read, enjoy and be inspired by her amazing journey.
"For many blind and partially sighted people, like me, braille is a vital tool opening the door to independence, learning literacy and most of all, the enjoyment of reading. I'm really proud of our involvement in this initiative and we can't wait to see Millie out in Beijing competing for a Paralympic medal."
Join the ParalympicsGB movement
Join
The ParalympicsGB movement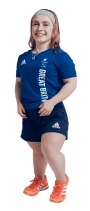 We may include relevant updates from our trusted partners, but will never sell your data on. We take your privacy seriously and you can opt out at any time Privacy Policy