ParalympicsGB medical staff playing vital role in combating Covid-19 pandemic
During these incredibly challenging times we wanted to shine a light on the amazing ParalympicsGB doctors, nurses and key workers playing a vital role in battling the Covid-19 pandemic.
With the Tokyo 2020 Paralympic Games postponed until next summer because of the pandemic, medical staff with a wealth of Paralympic experience are now on the frontline working around the clock to tackle the virus.
Chris Sanders and Neil Hipkiss are two nurses who would have been travelling to Japan this summer as part of the ParalympicsGB medical team. The duo are now helping care for coronavirus patients at University Hospital Southampton NHS Foundation Trust.
Neil - who was preparing for his third Games in Tokyo - got his first taste of ParalympicsGB action at London 2012 before also travelling to Rio in 2016, while Chris was gearing up for his debut as a member of ParalympicsGB medical staff.
But they have both had to adjust their plans in light of the acute nature of the pandemic, and are now working selflessly in a critical role - an experience they believe will serve them well when the Games eventually come around next year.
Chris said: "I'm a relative newbie when it comes to ParalympicsGB, but I realise how much of a privilege it is to get selected and I can't wait to get going for next year.
Chris and Neil have turned their attention from Tokyo to working together at an NHS hospital in Southampton
"We've had to adapt our roles quite considerably, but there's a lot of positivity around in our team and the NHS, and it's great to feel appreciated in what we're doing.
"This situation is only going to help us adapt and grow stronger - us and all the other nurses within our medical team have had to adapt, and it's definitely brought us closer together which can only be a good thing and make us better prepared."
Neil added: ""I'm working with an amazing team at the moment and we're dealing with this threat really well, and that's mainly because the public are following the government's message of staying at home, protecting the NHS and saving lives.
"Working with ParalympicsGB has been one of the highlights of my career, and the Rio Games in 2016 was just one of the best things I've ever done.
"This situation means we'll be better prepared for Tokyo, and we're raring to go for a year's time."
Nurse Kim Brinkworth in Rio 2016 mode
Kim Brinkworth is another member of ParalympicsGB medical staff, working as a senior staff nurse in a department specialising in head and neck cancers and reconstructive surgery at the Queen Victoria Hospital NHS Foundation Trust in East Grinstead.
Kim's maiden experience of Paralympic action came in Beijing in 2008, with the Sussex-based nurse - ParalympicsGB's lead for Tokyo - preparing for her fourth Games cycle next summer but now working in a very different capacity.
"My hospital is continuing to provide the service it has in head and neck cancers, but we've rearranged our unit so we can stay as clean, cold and COVID-19-free," she said.
"It makes me very proud to be working for the NHS - I know that I'm doing my bit, and it's vital to help continuing to make sure people are getting the cancer surgery they need.
"The response we've had has been unbelievable and the media interest in the NHS and all the work we've been doing has been something else, so everyone is pulling together.
It makes me very proud to be working for the NHS - I know that I'm doing my bit.
"I'd absolutely echo the government advice to stay at home and save lives - it protects people and it protects the NHS's resources, so it's absolutely the best thing to do and we really appreciate what everyone is doing."
Lucy Bell has also exchanged Tokyo plans for vital NHS work, contributing to the national effort as a physiotherapist - and on the ward - at the Warwickshire Nuffield Health Hospital.
Lucy, who lives in Leamington Spa, has worked with ParalympicsGB's equestrian team since London 2012 but is adjusting her role rather than planning to travel to her third Games in Japan this summer.
Let's beat this so we can go to Tokyo next year and be the best and at the top of the medal table, which is where we want to be.
"Our private hospital has been completely taken over by the NHS - I normally work with patients with sports injuries in a private clinic, but we now support the step down from the NHS," she said.
"They're crazy times at the moment, but everyone's pulling together to do what we can to beat COVID-19.
"The only way we're going to beat coronavirus is by following government guidelines and staying at home - let's beat this so we can go to Tokyo next year and be the best and at the top of the medal table, which is where we want to be."
Bev Everton is another experienced member of ParalympicsGB medical staff who is currently working in a health and social care role, starting her Games journey at London 2012 and now joining the national fight in her position as clinical nurse lead at Wellspect, in Worcester.

Bev is currently helping the national effort in her role at Wellspect, in Worcester
"I absolutely adore my work with ParalympicsGB, but at the moment we're providing community care for patients who would normally be seen as an outpatient but currently aren't because staff have had to be redeployed in different areas," she said.
"It does fill me with a lot of pride to see the gratitude of the public towards those in medical positions - the atmosphere among us is definitely remaining positive and upbeat.
"Everybody's come together and been really supportive of each other, and we're having to adapt, which is a real pleasure to be able to do.
"We're being prepared for the Games next year in a completely different way - we're being made to react on our feet, so it's almost like we're ready for anything really.
Dr Stuart Miller (centre) with team mates at the Paralympic Village at Rio 2016
"Definitely, definitely stay at home - we need to keep reiterating that in order to stay safe, but everybody's looking out for each other and pulling together."
Stuart Miller was due to be travelling to Japan as ParalympicsGB's Chief Medical Officer - after being involved since Beijing 2008 - but has had those plans temporarily put on hold. He wanted to reinforce the government's advice about the importance of staying at home.
"The work I do with ParalympicsGB is definitely one of the highlights of my job - I'm very privileged to do it and I love every minute I spend in the role," he said.
"The postponement of Tokyo is a big change to my plans, but for now, what's important for everyone is to follow the government advice to stay at home and save lives."
A number of these personnel are seconded from the English Institute of Sport and other Home Country Institutes and ParalympicsGB is grateful for their support.
ParalympicsGB medical staff helping combat Covid-19
Nurses
Kim Brinkworth (Lead for Tokyo)
Neil Hipkiss
Sadie Melling
Chris Sanders
Bev Everton
Doctors
Stuart Miller (Chief Medical Officer for Tokyo)
Kate Strachan (Deputy Chief Medical Officer for Tokyo)
Jim Kerss
Richard Weiler
Kim Gregory
Jo Banks
Physiotherapists
Lucy Bell
John Prescott
Clinical Psychologists
Amanda Gatherer
Joint the ParalympicsGB movement
Join
The ParalympicsGB movement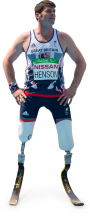 We may include relevant updates from our trusted partners, but will never sell your data on. We take your privacy seriously and you can opt out at any time Privacy Policy