ParalympicsGB and Scope issue rallying call to fans to turn 'cheers into change' ahead of Tokyo 2020
ParalympicsGB and disability equality charity Scope have teamed up to call on fans to make this summer's Tokyo Paralympic Games a catalyst for change. Paralympics must be 'watershed moment' for disability equality – as pandemic put brakes on tackling negative attitudes
New research shows 69 per cent of disabled people think the Paralympics can help tackle negative attitudes towards disabled people as 3 in 4 (72 per cent) of disabled people believe public's perceptions of disabled people have either worsened or not shifted during pandemic.
Paralympian Sophie Christiansen has joined the call for the public to deepen their understanding of disability and be an ally to disabled people.
. New research by Scope published today shows:
· A fifth (17 per cent) of disabled people say perceptions of disabled people have worsened and 55 per cent say they did not shift during the pandemic
· 56 per cent believe disabled people are seen as more vulnerable than they were before the pandemic, fearing it could affect their job prospects, social life and mental health
· One in three (28 per cent) think disabled people are seen more as being a burden
Research from Scope in November 2020 found that:
· One in five (21 per cent) believe there is less understanding towards disabled people among the general public since the pandemic began
The findings make this year's Paralympics the most important Games ever for disability equality. In response to the situation, Scope and Paralympics GB are calling on:
· The nation - to turn their 'cheers into change' and join the movement to change attitudes
· The Government, businesses and the public to recognise how tough the last year has been for disabled people, and ensure disabled people are factored into every stage of the roadmap out of lockdown
· The Government's forthcoming National Disability Strategy to kickstart a process that transforms the lives of disabled people in this country
​

Equestrian star Sophie Christiansen winning gold at London 2012
Sophie Christiansen CBE, is a British dressage rider who has competed in four successive Paralympic Games and is currently an eight-time Paralympic champion. Sophie was born two months prematurely with Cerebral Palsy. Aged 6, she started riding for physiotherapy at the local Riding for the Disabled Association (RDA) group.
"Getting back out there as we return to normal is just making me remember how inaccessible the UK is.
"I love the Paralympics but this time round they need to be more than just a feel-good story. I want to use them as a platform to show the reality of living as a disabled person in the UK. The pandemic was tough, my carer suddenly stopped coming in and government advice about PPE and our safety came far too late. Without my partner I don't know what I'd have done.
"Disabled people need allies, like all marginalised groups. It doesn't matter if you're not disabled, you can still further your understanding of disability, and campaign for the rights of disabled people.
"What I would say to the public is: Improve your knowledge of disability. Be open and empathetic to what other people are going through. At your job, find out if your company is accessible to disabled customers and fellow employees. Ask managers if their website is accessible, find out if your nearest shop is accessible. Ask these questions because just by doing it ourselves it feels like a drop in the ocean, and we need your help."
Mike Sharrock, Chief Executive of ParalympicsGB said:
"This new research provides compelling evidence of the direct link between the success of our talented Paralympic athletes and its potential wider social benefit for all disabled people.
"Following the disproportionate impact of Covid-19 on so many disabled people, we now believe more than ever that the success of ParalympicsGB must be a catalyst for meaningful, long-term action – with athletes as powerful advocates to turn the nation's cheers into change and those medals into a UK wide movement.
"Working in partnership with Scope we will do all we can to ensure disabled people are represented throughout society and, like our Paralympic heroes, become Impossible to Ignore."
Mark Hodgkinson, Chief Executive at disability equality charity Scope, said:
"This is the most important Paralympics ever for disability equality. We are at a watershed moment. As we move out of lockdown, we must not miss the opportunity to create an equal and fair society.
"The pandemic has been incredibly tough for disabled people with many feeling forgotten and written off as expendable.
"As we get ready to cheer on ParalympicsGB this summer, we cannot ignore the catastrophic impact the last year has had on disabled people and the setbacks to progress to tackle negative perceptions about disability.
"We know you can't change attitudes in a fortnight, but we hope the Games will be a catalyst, and urge the nation to turn cheers into change this summer."
Join the ParalympicsGB movement
Join
The ParalympicsGB movement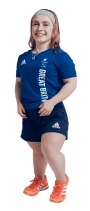 We may include relevant updates from our trusted partners, but will never sell your data on. We take your privacy seriously and you can opt out at any time Privacy Policy