Menna Fitzpatrick becomes most decorated Winter Paralympian with Super-G silver
Menna Fitzpatrick became the most decorated British Winter Paralympian in history by winning a silver medal in the Super G Vision Impaired at Beijing 2022 to take her overall tally to five.
The 23-year-old , who comes from Macclesfield, and Guide Gary Smith took advantage of superb conditions at the Yanqing National Alpine Skiing Centre to record a time of 1:18.79
Millie Knight and Guide Brett Wild were agonisingly close to the podium finishing in fourth place in a time of 1:19.39.
The medal was made even more special as Menna's Guide Katie Guest was unable to travel to China because of a positive Covid test.
Menna, who won four medals at PyeongChang 2018 said: "I am feeling absolutely amazing! I can't quite believe it, we just wanted to build on the day before and we are super, super happy.
"Gary and I have trained quite a long time and have been building up the relationship and that really helped coming into this. I am super happy he is my guide I couldn't wish for anything better!
"I am so happy to be most successful British Winter paralympian that is not what we came out to do today though, we went out to ski well, so to come out with a silver medal and a pretty amazing title as well means we are delighted.
"Just before the pandemic I broke my leg, Gary was guiding me at the time, and he was a great support during my rehab and to come through that and Covid as well make this really special.
"I had such an amazing time today I just want to go out there and do it again."
Guide Gary Smith, from Luton, said: "I got a bit emotional with Menna at the finish line as it's a really special moment I have known Menna since 2016 and she did brilliantly today
"The hill is unbelievable, the snow is great and skis are gripping really well. The experience of Pyeongchang and skiing with Kelly Gallagher who had experience of two Paralympic games has helped me and I have gone into these games trying to keep nice and calm and it paid off today
"The moment I met Menna it was great as I always used to sit next to her at dinner because she never finished it and I could steal seconds - it a pleasure to guide with her!"
Shona Brownlee finished sixth in the Women's Super G sitting with a time of 1:48.23 on her Paralympic debut. James Whitley finished in 19th place in the Men's Super G standing after completing his run in 1:14.88

Scott Meenagh in Cross Country action
Scott Meenagh continued his Beijing campaign with another impressive performance in the long distance cross country race.
In a highly competitive field dominated by the hosts China, Meenagh finished 12th in a time of 50:41.6 to improve on the 17th place he achieved in Pyeongchang four years ago.
Meenagh said: "It was a real, real struggle today but a solid race. You really have to break it into chunks and cut it down over the duration
"As I was coming into the sixth lap I was really feeling pretty fatigued, but then as that fatigue creeps in you know that everyone's suffering, you just have to rely on your technique, just strip it back and really work on with your tempo and keep trying to keep the skis moving along. A really tough endurance race, especially at this altitude.
"I'm pretty happy with my performance, I gave it everything today and some of the guys who are up on that podium have absolutely set a new standard, really, really impressive time. It's the most competitive field in Paralympic sport in my eyes and I'm really proud to be amongst it.
"You can race into form but definitely I came in prepared and ready to race, I didn't want to be feeling the cobwebs yesterday I was good to go - I felt I skied really well yesterday.
"I think now after this 18km which is probably the toughest race of the Games the focus is now on recovery, a couple of days off and then start to recharge the batteries ready to go again.
"It's a whole different beast, it's a lot more of a work, rest ratio because you get that natural break of the shoot across the 12.5km so you tend to hit the five laps a little bit harder."

Barnes Miller flying in the snowboard cross
Para snowboard trio James Barnes-Miller, Owen Pick and Ollie Hill safely qualified for the snowboard cross finals.
Barnes-Miller heads into tomorrow's finals following an improved second run time of 1:04.02 that saw him qualify in fifth position.
After falling in theirs opening runs, Pick and Hill managed to make amends on run two, qualifying in 11th and 12th respectively in the LL2 class, however it wasn't to be for Andy MacLeod who finished one place out of the qualifying spots in 17th.
Barnes-Miller said: "It was good to get the first run out the way, a safety run, I managed to push it a little bit on the second run, I wasn't riding my best but I think tomorrow is going to be where it goes down.
"Recovery, recovery, recovery for me, I had a big day yesterday training because the day before was cancelled so yeah just getting in, getting recovered and getting ready for tomorrow.
"The last jump before turn two just feels a little small for the speed you're going, I think they're going to change it for tomorrow but it's all good.
Pick said: "My first run was trash, I came out the start gate and hooked a heel-side edge which is just one of those things that sometimes happens when you're riding on the flat. And second run I managed to put it down and qualify 11th - that's the nerve-wracking bit out the way, tomorrow we race and anything can happen in racing.
"Don't fall over, that was what was going through my head. Don't fall over at the start, the rest of the course is sweet, there's one jump that was built too small for the speed that we had today just because the course has sped up, and yeah it was just don't fall in the start and make sure I check my speed into that because I didn't need to push it, I knew I could qualify without pushing it.
"We'll go back and watch the video from today and chill out have some good food, maybe play some Playstation and then get an early night because I imagine we're up early again tomorrow."
**Hill said: **"I feel like I've had a great sense of accomplishment and the mission journey that I was on before is starting to come to fruition. Obviously a bit of a tough day at the office for qualies, not how we'd always want to do it, but I'm just so stoked to qualify and we get another chance tomorrow. That's where it really counts."
"The last few days of training I've felt I've been riding really well, but where I'm so new to it there's a lot of technique bits I need to improve to be at that top level and I just tried too hard on one of the jumps and mistimed my absorb move which kicked the back of my board and forced me to crash so I had everything to do on the second run.
"Luckily I know that I was sitting in the top 10 from yesterday so I knew my speed was there and I just had to tone it down a bit and just make it down wax-side down. If you know you can do that and you know the mistake you've made it's much easier to re-set and move on.
On making his Paralympic debut, Hill said: "I never thought I would come to China until I was about 40 to see the rest of the world, so just to be here in the first place and be able to ride in China is amazing, to be here as a Paralympian in the Paralympics is the most amazing thing. Just super stoked to be here."
Macleod said: "It's phenomenal, I had a lot of fears a lot of doubts this week, snowboard cross racing is starting to scare me a bit because of the amount of injuries I've had but I pushed through, worked through a lot of techniques and strategies to get me here and I'm so glad that I didn't give up.
"I'm really chuffed, one of my main goals was to be racing tomorrow in the finals because tomorrow is my ampu-versary (11 year anniversary of his amputation) so that would have been a big thing, but at the same time I'm at the Paralympics while that's happening during my ampu-versary so I can just sit back, enjoy the sunshine and watch the boys do well tomorrow."
Join the ParalympicsGB movement
Join
The ParalympicsGB movement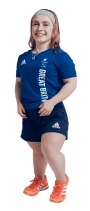 We may include relevant updates from our trusted partners, but will never sell your data on. We take your privacy seriously and you can opt out at any time Privacy Policy