Jack Hodgson had a simple choice growing up - black belts or ballet shoes.
Hodgson plumped for the former - and it was probably a wise manoeuvre as he's now been selected to compete for ParalympicsGB at his second Paralympics Games.
Growing up on a RAF military base with his family, Hodgson had two options to keep himself fit and entertained – either judo club or ballet classes.
While by Hodgson's own admission it may be "very difficult to imagine me being a tutu now at 130 kilogrammes", ballet initially won out – but after just a handful of sessions he persuaded his mother to swap classes.
"My mum wanted me to do ballet, while my dad wanted me to do judo," explained the 24-year-old. "My mum won - and put me in the ballet club for a couple of sessions. Eventually I decided it's not happening anymore, and I went to judo - and kept it up wherever my dad's military postings took us."

Hodgson throws Skelley in training
Hodgson made his Paralympic debut at Rio 2016 as a teenager and believes the experience he gained five years ago is invaluable.
He explained: "Rio was a great experience, but when I went there I was only 19 years old. I'd done judo since I was about seven, and I'd been taking it seriously for a few years, but in my head I wasn't a Rio Paralympian. I hadn't expected to qualify for Rio – Tokyo was my goal - so when I did, it was a massive shock.
"I went in there without much pressure on myself. Obviously, I was going to give it my best, but it meant I could learn from that experience and take it all in – the media, the lights and cameras - I can go to Tokyo and not be overwhelmed, so I can focus on my results and my performance."
Tokyo ready: Jack on selection day
Hodgson also heads to Japan with the added benefit of numerous previous visits to the country under his belt.
"With judo being so big in Japan it makes sense to take advantage of that," he explained. "The level of judo in Japan is just incredible, even at club and university level. It's such an advantage to be able to go there regularly. I love Tokyo, it is quite easy to navigate around and the people are so helpful."
While the COVID pandemic has meant limited opportunities to travel and compete over the last 18 months, Hodgson believes he has made the most of lockdown restrictions. The Para judo squad -including fellow Tokyo-bound athletes Dan Powell, Chris Skelley and Elliot Stewart - are a tightknit, supportive group and together they helped each other to stay as focused and as prepared as possible.
If you see us you'd think we all hate each other
"If you see us you'd think we all hate each other," he laughed. "We are fighting each other, but there is a really deep sense of loyalty there. The past year was difficult as the only way to do judo is to fight – you need a partner. With COVID-19 we weren't able to do that for a long time. We did conditioning sessions together on Zoom. Staying in touch kept me motivated as I find it difficult to train by myself – I like having partners and people with me. Being in a fighting sport is so physically as well as mentally demanding, so a support network is really important.
"I did a lot of training from home doing burpees in the garden – as a heavyweight I hate burpees and I never wish to do another in my life! I like fighting and lifting heavy weights – not burpees and sprints in my garden, but sometimes you've got to do what you've got to do.
"We've had an extra year to prepare and come back fitter and stronger - and push each other harder on the mat. If you go to the Games you want that medal - and you are going to try and do everything that you can to get it."
Join the ParalympicsGB movement
Join
The ParalympicsGB movement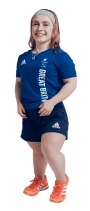 We may include relevant updates from our trusted partners, but will never sell your data on. We take your privacy seriously and you can opt out at any time Privacy Policy