Marsden's medal focus ahead of Para-canoe World Championships
As a man who has faced and overcome a series of life-changing setbacks over the years, para-canoeist Ian Marsden is not one to dwell on things he has no control over.
The 46-year-old from Stafford was a former World and European champion powerlifter before suffering a serious spinal injury that left him in a wheelchair.
Having been told he would never walk again, Marsden embarked on an illustrious handcycling career before a neck problem - initially thought to be a prolapsed disc - turned out to be a rare motor-neurone condition.
When handcycling was no longer an option, he turned to the water and earned selection for the Rio 2016 Paralympics, where he won bronze in the KL1.
And while further surgery this year has disrupted his season so far, Marsden is determined to prove himself once again at the upcoming ICF Para-canoe World Championships.
"My training has been a bit up and down with quite a bit of surgery so there have been periods where training has been consistent and then periods in hospital," he said.
"I can just do what I can do at this stage. It's just a medical implant I've got, the skin keeps splitting and getting infected so it's out of my control, it's not an injury.
"It's something that has occurred and then it has been on and off for about five years, but I've been more proactive by pulling out of the Europeans and getting it fixed.
"It will hopefully mean there is less disruption later down the line as the races at the start of the year were so close, in May and June, which is why it was more disrupted.
I want to be more consistent and then just see what I can do on the day at the Worlds.
"There's a few new people who have come into the fray as well, although I know most of the guys.
"You never know on the world stage what can happen and we have the first round of qualification next year, so people will be looking to get on the water and get set for that."
Marsden has enjoyed plenty of success in para-canoe since taking it up, after being encouraged to attend a talent ID day during his brief career as a 10-metre indoor air rifle shooter.
He is a two-time para-canoe European champion and two-time World silver medallist, but his career highlight saw him finally achieve his Paralympic dream in Rio.
And despite his less than ideal preparation for the World Championships in Portugal later this month, Marsden will be gunning to add another medal to his glittering collection.
"Winning a medal is always in your mind as that's what you're training for and that's what I'm going out to do, so obviously that's what my target is to achieve that," he said.

Paracanoeist Ian Marsden ahead of Rio 2016.
"I just want to have a good race, be consistent and put down a good time. I will take each race, the heat, semis and final, as an individual race and not look ahead to the final until I get there.
"If any year the disruption is going to happen, then this year is probably a good one for it to happen, not next year when it's qualification for the Paralympics, but it has been frustrating."
Marsden, who will be competing in his sixth World Championships in Montenor O Velho, also hopes his return to the international arena will be his first step on the road to Tokyo 2020.
Tokyo is the main focus and the qualification for that next year
"You may get new guys turn up this year, so it should provide a good insight into the competition at Tokyo.
"My aim is to get on the podium at the Worlds as that's what I do the training and the hard work for, that's still my target to get on the podium and then go from there really.
"But next year is the big one really with the boat qualification on the first round, so ideally I'll get qualified first time around and then you have the rest of the run in to Tokyo then."
Joint the ParalympicsGB movement
Join
The ParalympicsGB movement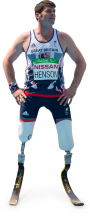 We may include relevant updates from our trusted partners, but will never sell your data on. We take your privacy seriously and you can opt out at any time Privacy Policy