Marked man Coutya gunning for gold
As a world, and now European, champion Dimitri Coutya knows he has a target on his back.
But the wheelchair fencing star is a man who thrives on pressure and he has his sights firmly set on Paralympic gold at Tokyo 2020.
Coutya achieved a long-held dream as he won a pair of gold medals at last year's Wheelchair Fencing World Championship in Rome – triumphing in the men's category B foil and epee.
Throw in another epee gold at last month's European Championships – where Paralympic champion Andri Pranevich of Belarus was defeated 15-5 in the final – and the Brit has quickly become a marked man in the wheelchair fencing world.
The 20-year-old, who turns 21 this weekend, is aware that getting to the top of the mountain and staying there are two entirely different beasts but that's a challenge he is embracing, choosing to see his success as vindication for his relentless training and preparation.

Dimitri Coutya celebrates world gold
"I think the gold medals are a good sign that what I'm focusing on is working – the preparations that we're doing in the run-up to competitions are effective," said Coutya, whose team-mate Piers Gilliver won silver in the men's Category A at the Europeans.
"Everyone is setting their sights on the GB contingent because they want to know what it is we're managing to do so well.
"That's the hardest part of being good at what you do – once you reach the top, it takes such hard work and a lot of time to maintain that.
"It's a lot harder to maintain than to get there. I know it's going to be a really difficult job over the next couple of years because there are so many intelligent fencers out there and tough competitors.
"I definitely think I'll have a target on my back. There are probably more capable fencers than myself but I'm the one that people are trying to figure out and target because I've had good results over the last year. I'm sure it's going to be an incredibly tough road now.
"I perform relatively well under pressure. That's good because that means I'm doing something right, even if things don't go quite to plan on the day.
"It gives me that extra kick and motivation to really ramp up my training, so I can still be competitive at a high level."

Dimitri Coutya in action at the World Championship
Tokyo 2020 is still two years away but it's a competition that is already firmly on Coutya's radar.
He gained invaluable Paralympic Games experience at Rio 2016, although he was knocked out of both the Category B foil and epee events at the quarter-final stage.
He regards those results as disappointing – with gold the only aim for Tokyo – but is convinced that having Paralympic experience under his belt will only be a good thing.
"I didn't get the results I wanted in Rio – I felt I could have done much better and I felt I let myself down a bit," he explained.
"But there was so much that I got to see and experience first-hand that will be a benefit. It's really different to other competitions, so it's something to bear in mind for Tokyo.
"It will help me be as prepared for it as I possibly can be. It reminds me what a challenge trying to win Paralympic gold is.
"Although it's not the immediate goal – and there is plenty of hard work to do before we get there – it's always in the back of my mind that everything we're doing is ultimately building up towards that goal of gold in Tokyo."
Coutya demonstrated his ability to bounce back from disappointment at the Europeans last month, as he lost in the semi-finals to earn a bronze medal in the foil before recovering to take epee gold.
The 15-14 foil defeat to home favourite, and eventual champion, Marco Cima was tough to take but another gold medal on the international stage has the Brit believing he's laid down a marker to his biggest rivals.
"It was mixed emotions for me," added Coutya. "The first competition [the foil] was really tough and it is my favourite discipline.
"I fenced relatively well to get to the semi-finals but I wasn't able to push on and reach the final to go for gold. That was quite disappointing and I was still frustrated about it for a while after.
"Every competition I go to, my aim is to get gold. And while winning any medal is better than no medal, I'm not really happy with myself unless it's a gold one.
"I didn't want to let the previous day's disappointment affect my epee performance, so I tried to clear my mind as best I could.
"I actually felt much better, pushed on and managed to deliver. It was an incredible feeling because it's a major championship and pretty much all of my top competitors are European.
"I had to face off against opponents who are likely to be giving me the most trouble over the next couple of years, especially in the run-up to Tokyo.
"To win the competition on such a concentrated European stage was a really good feeling and it's nice to know I'm competing at a high level."
Joint the ParalympicsGB movement
Join
The ParalympicsGB movement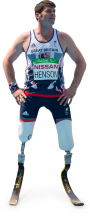 We may include relevant updates from our trusted partners, but will never sell your data on. We take your privacy seriously and you can opt out at any time Privacy Policy