Long wait over for English ahead of Blind Football World Cup
Dan English gets goosebumps any time he even talks about the Blind Football World Cup.
It is, after all, an opportunity he has waited eight years to call his own, a chance he dreams about more often that he would care to remember.
But should England go on to win the tournament? He would struggle to put it all into words.
"I wouldn't be able to describe what it would mean to actually win it," he says.
"To say that we've won a World Cup would be absolutely phenomenal."

Great Britain in action at the London 2012 Paralympic Games
Even on the eve of competition, the legacy a World Cup can create for England and blind football in general is still a factor that permeates through English's thoughts.
In a team brimming with youth he brings an experienced presence, a man who has come from the start of this ever-lengthening path – a journey corner-stoned by the London 2012 Paralympic Games.
But in all that time even he has picked up a change or two in the game he knows and loves.
"For us as a squad and other blind people in England it would have a great impact for the sport, we'd be able to drive that forward and get more blind people involved having seen what we've done.
It's a cliché to say it's a great honour but it really is – there is no greater feeling than being able to put that shirt on.
Brazil await for English's England
"Knowing that you're playing for pride for your country, you're out there with passion and doing what you can do to be your best.
"The things we're doing now are a lot more advanced, the game has moved on as any football does over the years, different tricks and traits come out and different players offer new things.
"I think the psychological aspect of the team is a lot different, we're a lot closer together as a squad."
While the occasion is there for all to behold, there is a game of football or two to be played after all.
Drawn in Group D, Brazil will undoubtedly provide the toughest challenge for English and his side – Paralympic gold medallists and four-time winners of the competition, including the last edition back in 2014.
Only Argentina, twice, have also lifted the Blind Football World Cup.
Robin Williams in action at London 2012
Boss planning for bigger picture
But in their opener against Mali and potentially decisive clash against Costa Rica for a place in the quarter-finals, exciting yet beatable challenges await for England against two of the tournament's debutants.
Get past that and then anything can happen.
"We're going to be going in there as underdogs, we've not been in a World Cup for so long but I think some people will be scared to play us having played them previously," added English.
"I think teams should be worried about England, it's been a bit of bad luck that we've missed out on some other competitions but I think that's something that's going to change – starting with this World Cup."
The task of stitching all this together falls on the shoulders of Jon Pugh, head coach for both England and Great Britain Blind Football teams.
And with a fully fit squad of players heading to a tournament for perhaps the first time, preparations for Spain have seen a case of so far, so good.
But the man at the helm has become accustomed to taking in the bigger picture.
Getting out of the group would be amazing for us and from there we take every game as it comes.
Pugh planning for push to Tokyo
For Pugh, excitement of the World Cup sits alongside planning for the future, with the next European Championships set to be the litmus test of their capabilities – also providing a potential qualification path to the Tokyo 2020 Paralympic Games.
"It is the biggest competition that we play in outside of the Paralympic Games, and this one is going to be the biggest and best – we've got 16 of the world's top teams from all over each continent," he said.
"The game itself has become so professional over the past four or five years, these are elite athletes as opposed to blind people having a game of football.
"They train, act and live like professionals, this is what's happened all over the world so you're going to see a competition with the best teams competing.
"The Euros is something we're more focused on, we need to be in the top two to qualify and with that in mind we're doing things with a progression mind as opposed to all guns blazing at the World Cup.
"We know that we need to develop this team to be good enough to win the Euros."
Joint the ParalympicsGB movement
Join
The ParalympicsGB movement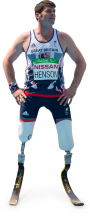 We may include relevant updates from our trusted partners, but will never sell your data on. We take your privacy seriously and you can opt out at any time Privacy Policy