Knight and Wild win first medal for ParalympicsGB in Beijing
Millie Knight and guide Brett Wild won ParalympicsGB's first medal on the opening day of competition at the Beijing 2022 Paralympic Winter Games with a superb run to secure bronze in the Women's Downhill Visually Impaired.
The duo finished in a time of 1:23.20 at the Yanqing National Alpine Centre while Menna Fitzpatrick and guide Gary Smith finished in fifth place with a time of 1:30.49
Knight, from Canterbury is competing at her third Paralympic Games, she said: "The feelings haven't really sunk in, there are so many thoughts and emotions going through my head. I feel like I'm on cloud nine and I just genuinely can't believe that this is happening to us.

Millie Knight competing in women's VI downhill
"Crossing the line with a smile on my face was our number one goal - we genuinely didn't believe we were at the level that would get us a medal. This bronze is something very special.
"Brett's belief and confidence in me has very much inspired me and made me want to do it not just for me, my family friends and sponsors but for Brett.
"This medal ranks above our silver 4 years ago in PyeongChang - we are every different people and have gone through some tough things and it's changed us.
"The conditions were perfect, absolutely unbelievable. The snow was amazing and the course had fantastic features - it was so much fun.
"We genuinely did not think a medal would be achievable especially with the standard at the moment - I didn't think I was good enough to be up there. At the start I was just thinking find the seconds, do anything you can do to go faster, it doesn't matter if you're scared, keep going.
"It's unbelievable to be here competing especially with all the difficulties going on at the moment. I feel very grateful that we can compete but obviously my thoughts go out to all the Ukrainians."
Meenagh and Deboys get underway in Beijing
Scott Meenagh and Callum Deboys opened their accounts at Beijing 2022 in promising fashion among challenging conditions for the men's sprint sitting para biathlon in Zhangjiakou.

Scott Meenagh competes in men's sprint sitting para biathlon
Meenagh, competing at his second Games, finished ninth in a time of 20:34.7, while teammate Deboys, who made his Paralympic debut, came 17th in a time of 22:32.0.
Despite strong winds testing the duo's shooting skills to the max, Meenagh believes his quick-firing approach was key to achieving a solid top-10 position.
"It was really tough out there, I think physically this course and the conditions that we were racing in gives you the ability to absolutely end yourself. I found myself in that hurt locker pretty quickly today which was very much the plan," said Meenagh.
"I took some risks on the shooting mat which I don't regret, I think they definitely kept me in the picture with some of the really fast guys who took a lot more time on the mat today, on another day if it came off and it was clear we'd be a in a whole different position.
"I was really happy to get the account opened and this is a race I've been really thinking about and just wanting to get amongst for a very long time."
I can't believe that I've actually come here, finished the first race and it's just the dream come true
Making his Paralympic debut, Deboys was delighted to reach the start line and can't wait till he's next in action again.
"Yeah just incredible, I can't believe that I've actually come here, finished the first race and it's just the dream come true," said Deboys.
"The conditions were tough, it was very windy out there and a pretty strong headwind, but the sun and the snow conditions were perfect, I really can't complain.
"I've got a day off tomorrow, but I'm looking forward to racing again and just taking it one race at a time."

Teenager Neil Simpson enjoyed a terrific start to his first ever Paralympic Games, finishing seventh in the men's Visually Impaired downhill. The 19-year-old, who is guided by his brother Andrew, clocked 1:17.13 in only his second ever downhill race and he was suitably delighted.
"It was really exciting, I'm very pleased with how we went," said Simpson. "I felt we had carried on from the training and we delivered well on that. Usually, I am pretty nervous before I race but not much was going through my head at the start, which was surprising. I've really enjoyed my experience here so far and to be doing it with Andrew makes it that bit more special - it's an experience we will cherish for a long time to come.
"With more training I think we can go pretty far in downhill. I've enjoyed it so far - I was pretty nervous before i started but now I just want to get more training under me and go from there - I'm really looking forward to racing the Super G on the same hill."
Three-time Paralympian James Whitely meanwhile finished ninth in a field of over 30 skiers in the highly competitive men's downhill Standing class, his best finish ever at a Paralympic Games.
"I'm really pleased, it's my best Paralympic result to date and my best downhill result to date, so I'm really happy with how it went," said the 24-year-old, who clocked 1:19.05.
"I had a good training run yesterday so I just took all the good feelings I had from that and gave it again today, with even more energy.
"Without doubt this is the best downhill I've ever done. you've got flats, fast bits, technical parts, jumps and you've got really steep sections - it's just so enjoyable to do which is probably part of the reason I did so well. The dream is always to get a medal, but as long as I do the best I can I'm sure one day I'll get there."
Join the ParalympicsGB movement
Join
The ParalympicsGB movement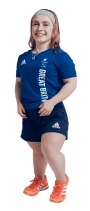 We may include relevant updates from our trusted partners, but will never sell your data on. We take your privacy seriously and you can opt out at any time Privacy Policy