Kearney and Summers-Newton power ParalympicsGB to double gold in the pool
The second day of swimming action saw ParalympicsGB roar to a golden double, with Tully Kearney and Maisie Summers-Newton powering to the top of the podium with a world record apiece.
Kearney completed her remarkable journey from Rio heartbreak to the top of the Paralympic ranks, smashing her own global best time in the women's 100m freestyle S5 to erase any disappointment at just missing out in the 200m a day earlier.
A dramatic race over the longer distance had seen the 24-year-old – a seven-time world champion – lead until the dying stages before ending with silver, but victory never looked in doubt second time around.
With a time of 1:14.39, Kearney knocked almost two seconds off her own world record, finishing 3.41s clear of 200m champion Zhang Li in second.

Tully Kearney celebrates with her gold medal after victory in the women's 100m freestyle S5
Italy's Monica Boggioni claimed the bronze medal, touching the wall just 0.06s ahead of another Brit Suzanna Hext, who had an asthma attack yesterday and was taken to hospital before finishing fourth for the second time in as many days.
Kearney said: "I was quite frustrated with myself for how I swam yesterday. Yesterday I was aiming for the world record in the 200m and unfortunately with the injuries I've had I just didn't have the fitness to hold on.
"I think in a sense yesterday helped me because when I got back I didn't have a huge adrenaline rush that kept me awake. It was so late and I was so tired that I pretty much went straight to sleep.
"Today I was absolutely determined that nobody was going to beat me. With the injury I've been dealing with I felt pretty rough in the warm-up and wasn't sure how I was going to do it, but I just said I was going to leave it all in the pool, and it worked."
Paralympic gold was at one stage considered an impossibility for Kearney, who was forced to withdraw from the Rio Games two weeks before she was due to fly out as a result of a progression of her condition, dystonia syndrome.
Today I was absolutely determined that nobody was going to beat me
Having been convinced to return to the pool by her mum Amanda after around a year away, Kearney has since been forced to battle an ongoing shoulder problem, but she insisted victory in Tokyo had made all the pain worthwhile.
She added: "It's made everything worth it. It was hard watching the Rio Games because the races were being won in slower times than I'd produced, and I thought my dream was over.
"My mum had faith I could find a way, and if it wasn't for her I'd never have got back in the pool again. To get to this point now with a gold medal is crazy!
"The shoulder problem has been very annoying, but I'm hoping to have a better season next year and heading towards Paris, so I can actually be fit enough to swim at the pace I want. If I can get to full fitness hopefully I can challenge the 200m world record next year."

Maisie Summers-Newton holds up her gold medal following her impressive win in the women's 200m individual medley SM6 final
Shortly after Kearney's title exploits Summers-Newton notched ParalympicsGB's second gold of the day in the pool with a dominant second half of the women's 200m individual medley SM6 final to finish in a world record time of 2:56.68.
The 19-year-old bettered the world best time set by Yelyzaveta Mereshko earlier in the day to finish ahead of the Ukrainian who took silver, while Germany's Verena Schott completed the podium with bronze.
Eight-time Paralympic medallist Ellie Simmonds – who inspired Summers-Newton to take up swimming with her performances at previous Paralympic Games – finished strongly in fifth, while Grace Harvey was one place further back in sixth.
"I wasn't too panicked that the world record had fallen in the heats, because I knew my heats were solid," said Summers-Newton. "I hoped I could pull it out of the bag tonight.

Eight-time Paralympic medallist Ellie Simmonds finished fifth in the women's 200m individual medley SM6
"I knew my breaststroke was my strongest of the four, and when I saw the other girls were reasonably close I just gave it my all. Thankfully, it paid off!
"I watched Ellie [Simmonds] race in London so to be in a Paralympic final with her was insane. She's incredibly supportive and having my teammates around me and everyone at home cheering on definitely helped."
Elsewhere, ParalympicsGB's Lyndon Longhorne was also in finals action, clocking 1:33.30 to finish seventh in the men's 100m freestyle S4.
And the quartet of Longhorne, Kearney, Ellie Challis and Will Perry came home eighth in the mixed 4x50m freestyle 20 points relay, with a time of 2:48.34 in the final race of the session.
Join the ParalympicsGB movement
Join
The ParalympicsGB movement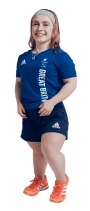 We may include relevant updates from our trusted partners, but will never sell your data on. We take your privacy seriously and you can opt out at any time Privacy Policy