Hynd enjoying return to pool after reclassification process
It's been a year of uncertainty for Paralympic champion Ollie Hynd, one of the stars of Rio 2016.
Winner of five Paralympic medals – three of them gold – Hynd went through the process of reclassification last year. A period of adjustment and refocus followed.
World Para Swimming implemented classification rule changes at the start of 2018 which has seen a small number of swimmers change class, including Ollie who went from S8 to S9, meaning he would be racing less-impaired swimmers than he previously did.
After a brief reprieve when he successfully appealed the switch, the verdict was overturned prior to the European Para Swimming Championships in Dublin, where the Mansfield native battled to a fourth-place finish in the S9 100m backstroke.
And going from dominating your class to getting to grips with another undoubtedly has its stresses but it's a battle from which Hynd is steadily emerging.
"I'm not putting any pressure on myself," he said.

Ollie Hynd celebrates gold in Rio
"One thing about the journey that I've been on over the last couple of months and getting back into it was trying to find that enjoyment again in swimming.
"To a certain extent, I think I've been able to do that, so just keeping that going and enjoying every day, wanting to swim.
"I think I've been very fortunate in my career; I've never had a down year as such, never had any major injury. Obviously, 2018 was a definitely a year to forget. It didn't pan out how I wanted it to.
"The process itself was very draining and lengthy. It definitely affected me – not only my swimming, but me as a person as well.
"I had to go through that to get to the end of it, although I didn't get the result that I thought I would. It happens, and you've just got to go with it."
But with a busy summer in the pool approaching – the World Para Swimming Championships and a home event in the world series on the horizon – the 24-year-old has been building his schedule back up, now with a different attitude.
One thing about the journey that I've been on over the last couple of months and getting back into it was trying to find that enjoyment again in swimming.
"It was kind of non-existent," he admitted of his training.
"I was doing maybe two or three sessions a week until the beginning of the year and then I just kind of built it up slowly, just adding a session every couple of weeks, to now, maybe three weeks ago, being pretty much to a full programme.
"I think just having a bit of time away from international competition won't do me any harm in the long run for my well-being.
"For me, the upcoming World Para Series meet in Glasgow – which serve as the trials (for the worlds) as well – is just a chance to swim, really, because I've not raced for about six months now."
And while he is still coming to terms with his new classification, Hynd will never lose that competitive spirit that carried him all the way to his three Paralympic golds.

Hynd in action at Rio 2016
With Tokyo now less than 18 months away, he's still dreaming of more Paralympic glory.
"We ultimately train to go to the Paralympic Games – that's just how it is," he continued.
"For me, it's about just being healthy and happy at the moment.
"If I can do that, if I can go to Glasgow this month, really enjoy the experience and swim well, I can then move onto the summer champs, which will be where I want to be in a decent shape and level.
"I'll move it on there and then take a break after that, and plan what the next six months leading into trials to Tokyo look like."
Find out more about Classification:
Joint the ParalympicsGB movement
Join
The ParalympicsGB movement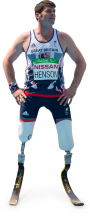 We may include relevant updates from our trusted partners, but will never sell your data on. We take your privacy seriously and you can opt out at any time Privacy Policy