To celebrate 12 months of partnership, we hear from CMR Surgical's Head of Marketing Patrick Pordage on the parallels between sport and surgery, and the power of partnership to inspire positive change…
This month marks one year since CMR Surgical became the official medical device partner of ParalympicsGB. This is a partnership we are all extremely proud of at CMR and it's been a huge privilege to be part of the thrill of the Tokyo and Beijing Games over the last year, seeing the ParalympicsGB medals roll in across the Games and more importantly watching the athletes excel in each of their sports.
We partner with ParalympicsGB because we see so many parallels. Like us, they are passionate about their mission to be impossible to ignore. To challenge perceptions around human ability, to break down barriers and achieve incredible success. They are also, like CMR, a 'challenger brand', an organisation that over the past few years has emerged into the spotlight to be recognised on international stage. And of course, let's not forget that the Paralympic Games were started here in the UK by German surgeon, Ludwig Guttmann, who moved to the UK during WWII and set up the Stoke Mandeville games as part of his programme of helping wounded soldiers recover.
With our campaign 'human skill, redefined' we have sought to capture that same spirit, showcasing the extraordinary para-athletes who are pushing boundaries to redefine what ability is and, in doing so, inspiring the nation. It's about highlighting the individuals behind the success – telling their stories and what has led them to their place on the ParalympicsGB team.

L-R: Jude Hamer, Robyn Love, Laurie Williams and Siobhan Fitzpatrick
Over the last year, we have had the pleasure to meet and create content with a number of superstars on the ParalympicsGB team, including Jaco Van Gass, cyclist and multiple gold medallist; Dimitri Coutya, an endlessly impressive wheelchair fencer; young champion archer Phoebe Paterson Pine; Sir Lee Pearson, para-dressage veteran; and most recently, the awe-inspiring wheelchair basketball team. In all the videos we have tried to capture where their incredible determination comes from, and the qualities that have made them so successful. We have learned about the power of marginal gains in mastering their skill – whether that's in timing, breathing, equipment or feeling – hearing about how small decisions can often have a powerful impact on the outcome.
It has also opened up conversations with people across the surgical community about the Paralympics – and the several distinct parallels between sport and surgery. Teamwork is critical – not only with teammates but also your coach, and wider support network, just like it is with the surgical team in each and every procedure. You also cannot underestimate the importance of training, and of real hard work and personal sacrifice that often comes with the discipline. Para-athletes are driven by a motivation to succeed and be the best they can be in every competition, where surgeons want to get the best possible outcomes for their patients every time they walk into the operating room.
A huge part of both of these disciplines is precision and control. It is what makes a surgeon get the best outcomes, and how the para-athletes take points from competitors. High levels of precision, control and accuracy in movement sets apart the good from the great and can make all the difference. It's something which we are passionate about at CMR, and central to our design of Versius.
When we think about partnership at CMR – it's about creating meaningful relationships that serve a significant purpose. Whether that is partnership with surgeons and hospitals using Versius to give more patients access to better surgery, surgical societies and training centres to drive change and standardisation, or external companies to create new digital products, we strive to partner with like-minded individuals and groups to inspire positive change. We know working in silo will only get us so far.
The partnership with ParalympicsGB is meaningful as it has driven us to push forward with the work we are doing on diversity, inclusion and belonging – embedding this into our culture and making a series of changes and commitments to make us better as an organisation. We are on a journey to accelerate the diversity of experience and thought within the company to make us better. We have also been so inspired by the notion of being impossible to ignore, to push boundaries to realise our mission of transforming surgery, for good, while supporting ParalympicsGB on their own mission.
We are proud to be going into the second year of this partnership and are excited to see what the future will bring.
Join the ParalympicsGB movement
Join
The ParalympicsGB movement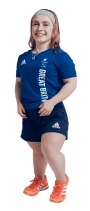 We may include relevant updates from our trusted partners, but will never sell your data on. We take your privacy seriously and you can opt out at any time Privacy Policy