Henshaw enjoying friendly rivalry ahead of Tokyo 2020 push
No one would have begrudged Charlotte Henshaw for feeling daunted after switching to a sport where her teammate is the best in the world and fewer Paralympic spots are on offer.
The 32-year-old three-time Paralympian announced her retirement from swimming in 2017, having won silver at London 2012 and bronze at Rio 2016, in order to take up para-canoeing.
Her new venture meant going head-to-head with fellow Brit and seven-time world champion Emma Wiggs, who claimed Paralympic gold when the sport made its debut at Rio 2016.
But rather than being fazed by the task at hand, Henshaw rose to the challenge and edged out her compatriot in the KL2 200m race to secure her maiden para-canoe world title last year.
It was the latest in a series of one-two finishes for the pair and Henshaw believes their friendly rivalry will continue to bear fruit as they head into a qualification year for Tokyo 2020.
"I was very aware of Emma before I came to para-canoe and I knew that she had done amazing things since she moved from sitting volleyball," said Henshaw.
"When you navigate a rivalry like that it can be quite difficult when somebody new comes in but we've managed to make it work and I think it showed in our results last year.
"We managed to be the top two boats at every international competition last year, we were world-leading and that's what we want to be – it wouldn't happen without that close rivalry.
"We train together sometimes – not all the time – but we're around together all day and every day and I've experienced that in the past with Liz Johnson in swimming.

Charlotte Henshaw with her silver at London 2012
"I was very good friends with her but I managed to have that rivalry with her, so it's something I was used to and I know that if you have that positive relationship, friendship and rivalry it can be a good thing, you just have to harness it in the right way.
"I think, fortunately, we've managed to do that so far and we hopefully can continue to do that for the next few years building up to Tokyo 2020.
"Last year, Emma raced the quickest she'd raced time-wise and even she said it was because I was pushing her – and I think that was very much the same for me."
Henshaw swapped her swimming costume for a paddle after being identified by British Canoeing at the end of 2016, with the Mansfield athlete keen to try something new after Rio.
She hasn't looked back since and after a promising first full season in 2017, she achieved a podium in every race she started at international level last year.
But despite already proving her potential on the world stage in Portugal, Henshaw knows she faces a formidable battle to be selected for her fourth Paralympic Games.
We managed to be the top two boats at every international competition last year, we were world-leading and that's what we want to be
"It's very competitive to be selected for the Paralympic team in para-canoeing, the numbers are a lot less than I was used to in swimming," she said.
"It's a small team in para-canoe, hopefully bigger in Tokyo than in Rio, but compared to swimming it's still small and we're very fortunate that we've got the best talent in the world in Britain.
"It makes it more difficult to make the team because we've got that depth and the real focus is to continue to learn as I've still got a lot of improvements to make.
"Tokyo is the aim but we've got another year to get through before we get to the Paralympics so there's a job to be done - you can acknowledge that it's there, but not let it take over everything.
"We don't know how many spots there are going to be at the moment, we're looking at every eventuality and there is a possibility Emma and I can both race in the kayak event in Tokyo.
"Before it was just one from Great Britain, but that might be a possibility and it would be ideal to get two of us on the start line and possibly win two of the three medals.

Henshaw was previously a para-swimmer
"They are just ironing out the creases in the official selection policy at the moment, so we should get a better picture ahead of the summer as that's our main meet to qualify the boats."
For now though, Henshaw is focused on continuing to get to grips with her sport - admitting that she surprised even herself by winning a world title in just her second season.
"It was a very successful year," she said. "I knew that there would be some good improvements made because it was my first full year of training for the whole season.
"Then later in the season I really surprised myself with where I had managed to get to and it was just good to get out there and get among the strongest fields in the world.
"I wouldn't have been expected to win an international title so soon after moving from swimming, it's under two years from racing in the Paralympics in Rio to winning the world title in canoeing.
"It did surprise me but it was a highlight of my career and one that was quite unexpected. It's a good thing to push me forward into the business end of the Paralympic season.
"Those latter years are vital so to have a good performance in the latter part of the cycle is really helpful to push me on for the last 18 months towards the Games."
Main Image Credit: British Canoeing
Joint the ParalympicsGB movement
Join
The ParalympicsGB movement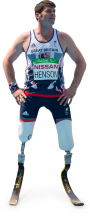 We may include relevant updates from our trusted partners, but will never sell your data on. We take your privacy seriously and you can opt out at any time Privacy Policy