Henshaw loving her change of lanes
Two years after sitting in Rio contemplating the end of her Paralympic journey, Charlotte Henshaw is preparing to take on the rest of the world once again.
The two-time Paralympic swimming medallist has been named in Britain's Paracanoe World Championships squad for the second time since switching sports in 2016.
Scott Simon's squad includes several steeped in the sport, a line-up laced with paracanoe pedigree, experience and medals to boot.
But the pull of the Paralympics proved too great for Henshaw to resist and she has since committed to overhauling the odds.
"I knew I didn't want Rio to be the end," said the 31-year-old, "I wanted to give myself the best opportunity to make another Paralympic team.
"I had reached my peak at swimming and reached the point I couldn't keep giving in training.
Having had a full year of training, I feel more settled on the water and it's been the huge learning curve I knew I needed.
"I knew canoeing were based close to me so it would not be a huge life upheaval and when I came to meet the guys and the coaching staff here, it felt like I would be happy.
"I really loved it. It was any easy decision to make and the team have made everything easy for me."
Only a background in the white heat of Paralympic competition could prepare Henshaw for her switch onto the white water, that has been smooth to say the least.
She stormed to double silver in her first two outings at the European Championships, even managing to make the squad for the World Championships in her debut campaign.
The Mansfield-born ace stood on the precipice of a rapid transition and like many, thought it unbridgeable.
"Last year was a real struggle for me as I had come into a new sport after Rio and very much expected it to be a learning year," said Henshaw.
"Swimming I felt I knew it like the back of my hand but I had never been in a canoe before I didn't know what the world was.
"I was very new and it was hard to manage my expectations, being an elite athlete I wanted to do the best I could while having to remember I was only six or seven months in to the sport.
"Having had a full year of training, I feel more settled on the water and it's been the huge learning curve I knew I needed.
"For me, it's about learning anything I can to understand the sport – I still feel I have a lot to learn."

Henshaw celebrates silver at London 2012
Henshaw was born with bilateral tibial hypoplasia - her lower legs were under-developed, which resulted in her legs being amputated above the knee when she was 18 months old.
Starting swimming at the age of four, she was a European champion by the age of 22 and went on to claim silver in London and bronze in Rio across SB6, SM8 and S8 events.
Water under the bridge perhaps, but the Nottinghamshire girl admits she often draws on her swimming experience in paracanoe competition.
"I came with that drive to succeed and from a sport which is also individual racing that's not different, on the start line it's just you and your lane racing," she explained.
"I have that aerobic engine from swimming and I was able to transition on the water very easy.
"I had never been in a canoe or kayak but I understand water and how it moves and now it feels second nature to me."
On her route to selection for the World Championships Henshaw set course records in the KL2 and VL3W at the National Regatta in Nottingham.
There is no danger in her lacking confidence, then, for next month's tournament in Montenor O Velho, Portugal.
"The World Championships was the target for the year and obviously I was fortunate to go last year but this time I have already been up against the best field in the world," she said.
"If I come away knowing I have put in a good performance and still learning, we are still two years from Paralympics I want to learn and keep improving.
"If I come back knowing I did my best out there I think I can feel happy moving into next season and using that as a springboard into the business end of the cycle, when you're two years out that's when the really exciting stuff starts to happen.
Joint the ParalympicsGB movement
Join
The ParalympicsGB movement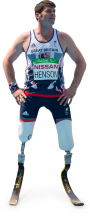 We may include relevant updates from our trusted partners, but will never sell your data on. We take your privacy seriously and you can opt out at any time Privacy Policy