Hamer chasing Tokyo 2020 glory after going back to basics with fresh start
Changing a winning formula is always a brave move – even more so on the back of the best year of your career to date and with a Paralympics on the horizon.
But for para swimmer Tom Hamer, the decision to leave the National Performance Centre after five years and start working with a new coach at the beginning of 2019 has been liberating.
The 20-year-old Paralympian dominated in the pool last year as he claimed 200m S14 freestyle gold at the Commonwealth Games before being crowned European champion in Dublin.
Instead of sticking to what was working, though, Hamer felt it was time for a fresh start and moved from the Para-Swimming National Performance Centre in Manchester to Stockport Metro.
And as the two-time Rio 2016 silver medallist prepares for the upcoming British Swimming Championships, which also double up as selection trials, Hamer admits he is loving the change of scenery.
"I decided I'd had such a good year and I wanted to try a different place, because it's better to make changes when things are going well than when they aren't going the best," he said.
"I felt like I needed a change after five years and I've only moved up the road to Stockport Metro, where I've been since January, and it's just been a really nice change.

"It's a different environment, different athletes to train with and a new coach and it's going really well. It's got me more excited for trials as I've been doing completely different training.
"It's nothing like I was used to and it's going to be a really interesting at trials because I feel like beforehand I knew what I was expecting but now I've made this big change.
"I'm just quite excited to lead up to Tokyo. A lot of people will make changes when things are going bad and then expect things to go well, but it's always hard to do that.
"I would happily go back to the National Performance Centre if I had to but I just felt at this point in my career I needed a fresh start, fresh scenery and I'm really loving it."
Hamer's move to Stockport Metro, where he is being coached by Sean Kelly, means he is now training alongside able-bodied swimmers including Kyle Chisholm.
A lot of people will make changes when things are going bad and then expect things to go well, but it's always hard to do that.
He believes the new challenge will only aid him ahead of a huge 18 months, which includes this year's World Para-swimming World Championships and Tokyo 2020 next summer.
And, after narrowly missing out on gold in Rio, Hamer is determined to complete his medal collection by adding Paralympic and world titles to his European and Commonwealth honours.
"It was heart-breaking getting pipped to the freestyle gold by two tenths of a second in Rio, but I had a good year last year and became a Commonwealth and European champion," he said.
"I now want to be world champion and Paralympic champion all within two years – that would be pretty insane if I can do that. I just need to peak at the right time.
"It's just about working on different things. I've got so much more to come, so much more to work on, and it's nice being able to train as part of an able-bodied programme.

Hamer celebrates his Rio 2016 success
"I used to train a lot on my own and it was hard to motivate myself, but now we have a good team around us and when you have a tough day it's nice to get picked up by one of the lads."
Hamer's back-to-basics approach even applies to his living arrangements, with his switch to Stockport Metro prompting him to move back in with his parents.
The self-confessed family man, who moved out when he was 15, hopes the changes he's made – along with his major championship experience – will allow him to thrive in and out of the pool.
"It's nice to have a change," he added. "I feel like I'm back at my old club where I started, where my mum would use to take me, the only difference is now I'm driving myself.
"Experience is a massive thing. Every time you go to a major championships the nerves get the best of you, it can be overwhelming being so far away from your family.
"We go to so many different countries, the food is always different, it's a different world and then going to a stadium where there are thousands and thousands of people watching.
"To have that experience under my belt is always good and I have been to Commonwealth Games and a Paralympics now, so I've had a bit of experience of the world stage."
Join the ParalympicsGB movement
Join
The ParalympicsGB movement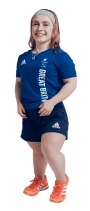 We may include relevant updates from our trusted partners, but will never sell your data on. We take your privacy seriously and you can opt out at any time Privacy Policy