Gilliver's golden ambitions
Paralympic silver medallist Piers Gilliver revealed his frustration with another second-place finish but he still believes gold is on the horizon.
Taking silver at the European Wheelchair Fencing Championships in Terni, Italy, Gilliver was beaten by his Russian rival Maxim Shaburov, who previously denied him of gold on two occasions last year.
Halfway through the Paralympic cycle, Gilliver admitted that every tournament is vital for the preparation of Tokyo 2020, which made the silver in Italy yet more unsatisfying for him.
"Coming away with the silver wasn't the result I'd hoped for," said the Gloucester-born 24-year-old.
"Again it was still that one nemesis of mine (Shaburov), it's always so close between me and him, sometimes it's him sometimes it's me.
"I've won 11 World Cup golds now but for me the Europeans is the one I wanted, it's a big championship and I wanted to prove myself on the main stage. But the Russian was better on the day, it's something to keep pushing for now.
"It's definitely frustrating, but at the end of the day that's sport and I've only got myself to blame.
"There's so many things to learn from, this time I started off really strong in the match and took control but then struggled to keep that throughout.

"I know the mistakes I made, especially going to qualifiers for Tokyo it's about putting all the pieces together and adding up the training and hopefully I'll make sure those golds are mine."
"It's a really tough environment, the thing with fencing is that it's not about turning up and just giving your best performance, it's that someone else is trying to take it away from you.
"It's a game of cat and mouse really, you're always trying to get one step ahead. But it keeps it exciting, it keeps you on your toes and you really can't relax because it's a brutal environment – one slip up and the medal is gone."
With two qualifying events for Tokyo 2020 at the end of this year in Georgia and Kyoto, Gilliver knows he has to up his game.
However, winning Best Fencer of the Year 2017 and a World Cup gold medal earlier in the year in Pisa, he feels on track to win Paralympic gold in two years' time.
"I'm really keen to do well at Kyoto, that's the big challenge this year," he added.
"It's a two-year qualifying period, so I'll go to those first two events and come out all guns blazing to show what I can do. I've got a great opportunity to get some good results there and see what the environment is like in Japan for competitions and get general experience.
"I think the progress is going better than I expected to be honest, it's difficult when you've been in a sport for a long time and people talk about plateauing, but it's really important to push more.
"No one is ever perfect, but I've got a great support team and coaches that keep pushing me so that I keep improving, while some athletes can go stale or stay in the same spot. So it's been really good preparation for Tokyo so far.
"If I keep on getting the titles and major championships under my belt it'll give me a really great prospect, going into a Games if I can have all those stacked up it will give me the opportunity to win gold."
With the most successful Paralympics in history at Rio 2016, reaching a cumulative TV audience of more than 4.1 billion people in more than 150 countries, 2020's Games are hotly anticipated.
And with the progression of wheelchair fencing specifically, Gilliver believes the sport is going from strength to strength.
"It's really impressive how Paralympics are getting more and more coverage, for fencing as well," he continued.
"The amount of people who saw me competing at Rio was huge really, I found that really impressive how widespread it was. People who haven't seen it before are amazed how fast and explosive it is, I think that makes it a really exciting prospect for spectators, the more people that can see it the better.
"Wheelchair fencing is evolving hugely, sometimes you have to stop and look back, there's new competitions and there's always a new face, new people, new countries coming in, so it's really great.
"For me, I love the sport so the more people get involved the better really, it's given me so much and it's great to see the progression of the skill level as well. Even just the time I've been involved, you can see the professionalism always changing and always getting one step higher and higher."
Joint the ParalympicsGB movement
Join
The ParalympicsGB movement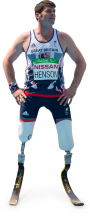 We may include relevant updates from our trusted partners, but will never sell your data on. We take your privacy seriously and you can opt out at any time Privacy Policy