Fearless Fundraisers take on Royal Parks Half for ParalympicsGB
On Sunday 14th October a team of ParalympicsGB fundraisers ran the Royal Parks Half Marathon, raising more than £4500 between them.
After months of training and fundraising the team braved the pouring rain, donned BeFearless jerseys and took on the 13.1 mile course that passes some of London's most iconic sights.
Our fundraisers help best prepare the ParalympicsGB team and, through that, inspire a better world for disabled people.
If you are interested in taking on a challenge event or fundraising for the BPA, please get in touch and our fundraising team will be happy to support you.
Emmie Le Marchand – an employee of BPA partner Hogan Lovells – was one of the ten who raised funds for the BPA at the Royal Parks Half Marathon.
She finished the race with an impressive time of 1:28:23 – which secured her place as the 16th fastest female.
As she prepared for the big day Emmie wrote a blog that she shared with ParalympicsGB.

Emmie after the Royal Parks Half Marathon
"On Sunday [16 September] I ran the Worcester half marathon as part of my training for the Royal Parks half. I grew up in Worcester and my parents still live there, so it was a nice excuse to visit for the weekend and enjoy a couple of home-cooked (and carb-heavy) meals.
Running around my old haunt, I was reminded just how lucky I am to have grown up playing sport every day surrounded by family and friends.
I cannot imagine the limitation I would feel if I didn't have full use of my body in order to do the sport I love. But the Paralympics has shown me that even with an impairment the passion for sport doesn't fade and it is still possible to compete at the highest level.
That's why it is great to see the work that the British Paralympic Association does – getting our best para athletes to the Games and helping them show the world what they can do.
The first competitor to get started in Worcester was a wheelchair athlete called Les. As I crossed the start line a few minutes after him, I reflected on just how lucky both of us were to be a part of such an event and to be doing the sport that we love." – Emmie Le Marchand, Hogan Lovells.
The Royal Parks Half Marathon
The Royal Parks Half Marathon begins in Hyde Park and covers four of eight Royal Parks, closing the roads around some of London's greatest landmarks.
More than 16,000 runners hit the streets of the capital this year to raise funds for various charities with BPA fundraisers chosen from BPA partners.
If you are interested in fundraising for the BPA please contact Lucy and Rachael on fundraising@paralympics.org.uk
Joint the ParalympicsGB movement
Join
The ParalympicsGB movement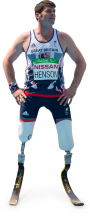 We may include relevant updates from our trusted partners, but will never sell your data on. We take your privacy seriously and you can opt out at any time Privacy Policy