Ellie bids to come top of the class
It's far from a straightforward balancing act but if she gets it right, then Ellie Robinson will really make the grade at Tokyo 2020.
Already a Paralympic gold medallist courtesy of her S6 50m success at Rio 2016, Robinson, who also topped the podium at last year's Commonwealth Games, is expected to be in the mix for more success in the Land of the Rising Sun.
But like any other 17-year-old, the Northampton native, who is due to compete in her first World Para Swimming World Series event of the year in Glasgow this week, is preparing to begin tackling her A-Level exams next month.
Performing at the top level is a tough enough ask even when you're not spending half of your time with your head buried in a mountain of textbooks but Robinson hopes that she's achieved the right level of harmony to fire on all cylinders.
"It can be really difficult but the one thing I have found really helped is communicating with people," she said.
"Talking to teachers about swimming and making it clear what the demands of swimming are, and then talking to my coach [Jacquie Marshall] as well, and saying how much I'm really prioritising my A-Levels, because, for me, I don't want to completely prioritise either my swimming or my A-Levels.
"It's a risky game putting all of my eggs in one basket, so I want to do the best that I can in both.
"So really, it's just talking to those teachers and coaches, so it's effectively being able to do both without sacrificing.
Ellie Robinson won a gold medal at Rio 2016
"If I hadn't explained to the GB coaches what's going on; there's always people that can help put plans in place.
"So really, it's just making sure that everyone knows what's going on and explaining to people the demands of each part of your life."
A large slice of the groundwork for a successful Tokyo 2020 will be laid this year but despite the pressures of attempting to peak at a Paralympic Games, Robinson insists that she instead focusses on the little things.
Marginal gains and immediate achievable goals form the bedrock of the relaxed GB star's day-to-day progression – all designed to culminate to long-term success.
"For me, I don't really set markers as medals or times or things like that," she said.
"The markers that I like to set for myself are not even necessarily in swimming – I'm trying to complete my A-Levels as best I can and make sure I maintain a good work ethic in training.
"So, I think if you like to set more subjective goals like working hard and things like that, it takes a little bit of pressure off and it's not so much do or die.
"One example would be that by the end of the season, I'm getting a certain percentage for attendance at training and things like that.
"It makes sure that I'm turning up to training and I'm doing all the right things because when you're looking to peak at a major games like at Tokyo, it's making sure that you're putting the work in along that four-year cycle.
"So as long as you're putting the right work in and you're doing the right processes, eventually, when the times do matter, they will come."
Joint the ParalympicsGB movement
Join
The ParalympicsGB movement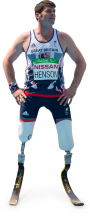 We may include relevant updates from our trusted partners, but will never sell your data on. We take your privacy seriously and you can opt out at any time Privacy Policy