Dunn upgrades to gold as one of five British swimming medals
There was no hiding Reece Dunn's disappointment at only winning silver in the 100m butterfly at Tokyo 2020. But that just made it all the sweeter when he claimed 200m freestyle gold to be crowned Paralympic champion for the first time.
The 25-year-old got the better of Brazil's Gabriel Bandeira, who had beaten him in the fly, in the S14 classification, setting a new world record in the process as he won in a time of 1:52.40.
Dunn started strongly over the first 150 metres before holding off the fast-finishing Bandeira on the final length, while fellow Brit Jordan Catchpole finished fifth in 1:56.33.
Dunn said: "I'm ecstatic. I felt immense disappointment on Wednesday, it was a tough, hard thing to take. This is the one thing, the one event I've been training for the past 12 weeks.
"It was a great swim, a solid swim given my injuries. I've had a back injury. I've not put much effort into the fly, a silver medal was great. I could have done a bit better but after tonight, the feeling's incredible.
"It was the target. I knew it had to be fast, but the tactics, the first three lengths have to be strong and just hang on."
Dunn's success came shortly after Hannah Russell had defended her 100m backstroke S12 title with a brilliant performance.

Hannah Russell defended her 100m backstroke Paralympic title
Up against Daria Pikalova of the Russian Paralympic Committee, Russell's strong turn proved crucial as she claimed gold in 1:08.44.
She said: "I'm absolutely delighted. Deep down, that's what I really, really wanted when I came here to Tokyo.
"It's been a massive team effort these past couple of years. If it wasn't for my family and British Swimming, I wouldn't be where I was.
"That race was really tough. I've been working with my coaches really closely, we had our plan. For me, it was really that turn. Accelerate the turn, in visually impaired swimming you either nail the turn or completely mess it up. In training I've been trying so, so hard to get that turn and I managed to do it on the day."
In the first race of the session, Stephen Clegg joined sister Libby and brother James as a Paralympic medallist as he won bronze in the men's 100m backstroke S12 in a personal best time of 1:01.27.
And there were two more medals in the women's 200m freestyle S14 as Bethany Firth won silver and Jessica-Jane Applegate took bronze, with Louise Fiddes in fourth.

Bethany Firth (left red cap) and Jessica-Jane Applegate (right red cap) claimed silver and bronze respectively
Defending champion Firth pushed Valeriia Shabalina of the RPC all the way but was touched out as she came home in 2:03.99, 0.28 seconds behind.
Applegate's time of 2:09.53 earned her bronze, with Fiddes touching home in 2:11.20.
While there was some disappointment at not retaining the title she won in Rio, Firth was able to put it into perspective.
She said: "It was so tough, I gave it all that I had. I know in time I'll be able to do it but this time I wasn't lucky enough. This time we get silver and I'm over the moon with that.
"A lot of things have happened with family and injuries and stuff. I've grown a lot from that, I appreciate swimming so much more.
"My mum wasn't very well with cancer and having injuries and Covid, it's been tough, so I'm just glad to be here. She's doing really well."
And it is not just Firth who has had to deal with a disrupted build-up to the Games, with Applegate's journey proving far from smooth.
She said: "It's been an insane year for me. I only got back into an actual swimming pool in April and started long-course training last month.
"I came back from Europeans and I was in two car accidents, I had a neck injury as well. It's not been a great build-up, I've been swimming in my back garden in a swim spa."
Join the ParalympicsGB movement
Join
The ParalympicsGB movement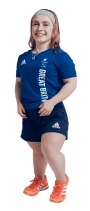 We may include relevant updates from our trusted partners, but will never sell your data on. We take your privacy seriously and you can opt out at any time Privacy Policy