Double Paralympic medallist Clarke calls time on stellar career
A 15-year-old Mel Clarke could not have dreamed how far an introductory archery session with the girl guides would take her.
Twenty-one years on, and the double Paralympic medallist is hanging up her bow – new-born daughter Cali approaching five-months-old, Clarke has swapped her quiver for a crib as family-time takes priority.
Time, then, to reflect on a truly stellar career littered with world and European medals, not to mention the two least-conspicuous pieces of silverware that a Para athlete can own.
The pinnacle came in 2012, when Clarke took silver in the individual compound at her home games, duking out a dream-like final against compatriot and friend, Danielle Brown.
"London was probably the most surreal and incredible opportunity and experience I've ever had," she said.
"To compete as well as I did and to be in that final with family and friends, media and everyone around was absolutely gobsmacking.

Clarke won bronze at Beijing 2008
"It couldn't have worked out better. I wasn't expecting to medal. I was hoping to, but to get through my semi-finals where my opposition should've wiped the floor with me and to get through to all-Brit final with the crowd behind us was brilliant.
"It came down to the last arrow and Danielle ultimately shot better than me. It was brilliant. All the media and stuff we had afterwards as a team was so good for raising the profile of the sport, which is really important, too.
"I've still got all of the photos on the wall and it still gives me shivers now seven years on."
But it was a path that up to that point had been littered with bumps and pain that Clarke now admits, retrospectively, shaped her for the better.
A keen dancer as a child, an accident in the gym led to her developing osteomyelitis as she lost the use of her legs.
From here, Clarke discovered archery, and found that she had an innate talent for the craft, becoming the first European Para archer to compete at an non-disabled international event in 2003, but her joy was short-lived.
The Norwich native collapsed during competition, thought to be suffering from heat-stroke, before intense testing found that Clarke had contracted Lyme disease, a condition that eventually caused her to lose the sight in her right eye.
London was probably the most surreal and incredible opportunity and experience I've ever had.
Again, refusing to be deterred, however, Clarke pressed on, developed a new style of shooting and, just five years later, played protagonist in a seminal Paralympic moment in Beijing.
"It was the first year that the bow style of shoot was allowed in the Paralympics and how it worked out – because I came third – I was presented the first-ever compound medal," she continued.
"It's little silly things like that, which are really important to me. It's a cool title to have.
"At the time of New York, the doctors didn't expect me to be able to compete again, which was a major set-back, but I had some very good support around me, who were prepared to throw things in a hat and see what happened.
"I think it's a technique that took four, five, six years to home in, to get to a point where it was consistent and right for me and was something that was even developing until last year.
"It was a big change and two years after becoming unwell and being told I couldn't shoot again to becoming world champion was phenomenal, and really lit a spark."
Mel Clarke and Danielle Brown secured a GB double in London
The prospect of competing for a hat-trick of Paralympic medals in Tokyo next summer was indeed a tantalising one for Clarke, and only recently did she make peace with her decision to retire from her sport.
Convinced, however, that she leaves the GB team in a better place than when she first joined up 17 years ago, the 37-year-old is looking forward to cheering on from afar.
Reflecting on her career, Clarke says it has been a journey she wouldn't have had any other way.
"I do a lot of work in schools as an ambassador and it's a really clear message that I try to send out," she added.
"One of the questions I'm often asked is if you could go back and not have your disability, would you?
"My answer is always – straight away – 'no' because it's given me so many opportunities.
"It's not something that I'd choose to go through but the things that I've been able to do since being in a chair and Para sport have been incredible."
Joint the ParalympicsGB movement
Join
The ParalympicsGB movement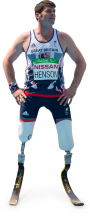 We may include relevant updates from our trusted partners, but will never sell your data on. We take your privacy seriously and you can opt out at any time Privacy Policy