Double Paralympic champion Walker announces archery retirement
From watching on his sofa to winning Paralympic gold - John Walker has announced that his remarkable archery career has come to an end.
The 44-year-old, who has announced his retirement after an injury-hit season, went from novice to champion in just four years, returning from Rio with two Paralympic golds around his neck and an MBE on the horizon.
Re-classification and injury have since proved problematic and Walker has decided to call it a day – just over six years since he first picked up a bow and arrow.
Walker, like many, was inspired by London 2012, and was still in recovery from a motorbike accident in April 2011 when the Games began. While watching the Games on his sofa, his life would change dramatically once again.
The sight of American Matt Stutzman shooting arrows with his feet is one to behold and it inspired Walker to give archery a try.
Four years later he went to Rio – returning with two golds – and three months after that, he was made an MBE.

It took Walker just four years to go from archery novice to Paralympian
"It was an absolutely awesome feeling, being on that podium and with those medals" he said.
"I was going to my first Paralympics and everyone thought I was mad because I wanted to win two golds.
"The most important thing before going to Rio was that we went to the Czech Republic, where we always go every year to shoot, and I beat [2008 Paralympic champion] David [Drahoninsky] in his home country.
"I knocked him out in the quarters so going into Rio I knew I was in a very good place. When it got to the individual final against him, I felt unbeatable.
"That is what it is like being in the zone. It's incredible. There were three days of frustration at the beginning but after that, it was amazing."
And so it was. Drahoninsky, a gold medallist from Beijing 2008, was defeated 141-139 in the final before Walker teamed up with Jo Frith to win team gold – his second of the Games.
Walker tasted double Paralympic success at Rio 2016
But things have been more challenging since then. The Brit was re-classified following the 2017 World Archery Para Championships in Beijing from W-1 to Compound Men and that had a major impact.
No longer able to shoot from his chair, he found being on a stool much harder before an injury in November accelerated his decision to call it quits.
"My arm swelled up and just dropped. It's caused some nerve damage to my right shoulder," he said.
"It prevented me from drawing my bow anymore the way I used to shoot.
"Even last year I wasn't competing at the top of my game – I only did one international shoot and was struggling to adapt to shoot from a stool.
"Before, I've shot in hot countries – out in Rio I won two gold medals – and I've shot in Bangkok and it's never been an issue because my arm just rested in my lap.
"I never really saw the dangers of it, but of course from a stool, my arm's not supported in the same way, so that contributed to my injury, unfortunately.
My goal has always been to win medals for my country and if anything ever prevented me from doing that, then I will just retire. I'm in it for the glory!"
Luckily, that thirst for medals has not completely diminished. While injured, Walker went back to something he knew he was good at – shooting.
"I'm ex-armed forces. I came out in 2002, but I always knew I was an extremely good shot from there," he added.
"After doing that for three weeks I was put onto the GB talent team. What I aim to do now is transfer over to shooting because I know I can win medals doing that as well.
"I always loved rifle shooting – the only reason I picked archery over shooting in the first place is the fact that it was a huge challenge for me to get to shoot a bow."
Despite changing sports, Walker has held on to his Paralympic ambitions. This year presents two chances to qualify for the Tokyo 2020 Games, the first in Dubai and the second in October in Sydney.
"That ambition still burns. I'll only have a slight chance of getting to Tokyo but it's my target," he added.
Even though today is a sad one for Walker, he has a new target in mind. And, as he's proven in both archery and shooting, he's pretty good at hitting them.
Joint the ParalympicsGB movement
Join
The ParalympicsGB movement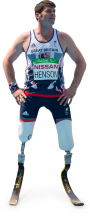 We may include relevant updates from our trusted partners, but will never sell your data on. We take your privacy seriously and you can opt out at any time Privacy Policy