Double gold dream now a reality insists Gilliver after surprise sabre success
Wheelchair fencer Piers Gilliver admits he is eyeing up double gold at Tokyo 2020 after surprising even himself with victory in the sabre at the World Cup in Pisa.
The Rio 2016 Paralympic silver medallist has always favoured the epee, having already claimed gold in the discipline in his previous three IWASF World Cup events before arriving in Italy.
But with Paralympic qualification placing greater emphasis on his ranking in both events, Gilliver has stepped up his sabre training to demonstrate his world-class ability across both weapons.
And his hard work paid off in Pisa as he struck gold in the sabre to continue his World Cup winning streak - before narrowly missing out on topping the podium in the epee, taking silver instead.
Gilliver is now aware he has an opportunity to challenge for Paralympic glory in both and while he insists epee remains his priority, he sees no reason to limit his gold medal chances.
"It went really well in Pisa," said Gilliver. "This was the fourth event of the qualification period and to bring back gold and a silver from this one, I was really pleased with that.
"I was especially pleased with winning gold in the sabre as I've only been doing it for a couple of years and I still feel like I have got a lot of improvements to make.
"I have now done four competitions and have four golds, so I'm really happy with that, especially now I've proven I can win gold in sabre as well.

Gilliver made his Paralympic debut at Rio 2016
"It shows the rest of the world I'm definitely worth watching out for in Tokyo. Epee has always been more natural to me, though, and the whole mindset is very different.
"The two weapons are very different technically and tactically so it's definitely something I'm trying to manage training-wise, but epee will always be my priority.
"I do have a good opportunity in sabre now, which I really didn't expect to be doing as well as I am in, so I will put more into it and it would be a dream to win gold in both in Tokyo."
Gilliver won all the bouts in his group to top the standings in the sabre, before beating Italy's Alberto Morelli 15-1 and French duo Ludovic Lemoine and Romain Noble 15-5.
His stellar form continued in the semi-finals as he dispatched Italian Edoardo Giordan before sealing gold with victory over Ukraine's Andrii Demchuk in the showpiece final.
Every day I'm doing everything I can, just thinking about how I can turn that Rio silver into a Tokyo gold.
He was not the only GB star to taste success in Pisa, either, with teammate Dimitri Coutya – who is also coached at the University of Bath – bagging a bronze medal in the Category B epee.
And despite winning ParalympicGB's first wheelchair fencing medal for 24 years on his Paralympic debut in Rio, Gilliver remains more driven than ever go one better in Tokyo.
"Having finished Rio, it was always a dream to medal as I never thought I'd do it, so to be able to come away with a medal really was a dream come true," he said.
"But missing out on the gold by two points really was a killer and it gave me so much motivation from day one to push for Tokyo and change that silver to a gold.
"Every day I'm doing everything I can, just thinking about how I can turn that Rio silver into a Tokyo gold, and I'll just keep working and hopefully the results will come.
"It's not like sprinting where you can measure you progress in time, it's difficult to see the improvements a lot of the time even when you're training all day, every day.
"It's interesting look back on where I was and I can definitely see I'm improving, I can feel my improvement, so while Rio doesn't seem long ago I'm going into Tokyo a lot stronger."
Joint the ParalympicsGB movement
Join
The ParalympicsGB movement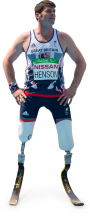 We may include relevant updates from our trusted partners, but will never sell your data on. We take your privacy seriously and you can opt out at any time Privacy Policy