Cockbill stays on target for Tokyo with ingenious shooting shed
Despite the UK being in a third national lockdown, shooter Ryan Cockbill's Paralympic ambitions are on target thanks to a mixture of ingenuity and innovation.
Last year, when the country went in to lockdown for the first time, the 30-year-old had his sights set on competing at the Tokyo 2020 Paralympic Games – at that point still scheduled to take place just five months later.
But there was a problem. As a rifle shooter, Cockbill, who took up the sport in 2007 following an injury to his spinal cord, was used to attending two training camps a month at purpose-built gun ranges - and that was no longer an option.
"It was a bit of a challenge," says Cockbill, who competed at London 2012 and Rio 2016. "How could I train to the best of my ability when I was stuck at home?
"Sport was being cancelled – including a trip I had planned to the UAE. No one was going anywhere – it was a concern that I could've lost a lot of time sitting around doing nothing."
Then Cockbill remembered a visit to an ammunition factory. Instead of a range, there was a long steel tunnel. It got the Walsall-based Paralympian and his father Andrew – an architect by trade – thinking. The pair sat down together and started drawing up plans for their own 10 metre range.
"Next to my patio door is a small window," explains Cockbill. "We figured out we could connect a large air-ducting pipe to a small shed and replace the window with a panel.
"We used a laser target system to shoot through the window which proved it would work. It was a no-brainer. Once we figured out how to do it, we wanted to get it up as soon as possible so I didn't lose any training time."
The following day, Cockbill ordered all the parts he would need online – including a small shed and a length of sturdy air-ducting steel pipe that would withstand wind and rain.
Just a week later, with the target inside the shed and hooked up to a laptop to track his scoring, he was able to recreate a full working range from his bathroom.
The solution proved invaluable for Cockbill. ­­­­Able to train from home despite the restrictions in place around the country due to the COVID-19 pandemic, he believes the set-up has helped him to improve his shooting.

"The home range has given me a chance to adapt my rifle for me. Now we are getting some really good results on the ranges too, so it has made a massive difference," says Cockbill, who on Wednesday was officially named as part of the six-strong shooting squad set to compete in Tokyo later this year.
"I was able to use the time last year to experiment in different positions and with different adaptions on my rifle too, to help make things even more accurate, as well as easier in terms of accessibility as I have limited dexterity in my hands, which limits what I can do."
Cockbill sends the data from his laptop to his coach, who is able to monitor his progress from afar. Think about shooting a lead pellet through the hole of a polo mint without breaking it and you have an idea of the skill level involved.
While Cockbill's resourcefulness has certainly proved beneficial, he's still keen to get back on the road.
"My home range will probably be there in the background even when we are back to normal, although I prefer to travel away to training as we are used to being away for competitions; it gets you in the right frame of mind," he admits.
"Having my daily commute to my bathroom to shoot is completely different, but it has helped me maximise my time over the last 10 months."
Joint the ParalympicsGB movement
Join
The ParalympicsGB movement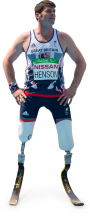 We may include relevant updates from our trusted partners, but will never sell your data on. We take your privacy seriously and you can opt out at any time Privacy Policy