BPA Athletes' Commission: New members elected
A record number of athletes voted to elect six new members to join the BPA Athletes' Commission.
Libby Clegg (athletics), Natasha Baker (equestrian), Gaz Choudhry (wheelchair basketball), Claire Taggart (boccia), Helen Scott (cycling) and Tania Nadarajah (archery) will take up their new posts in January, joining a group of six current and retired Paralympians.
Athletes' Commission chair Helene Raynsford said: "I'm really looking forward to welcoming our six new members to the Commission and can't wait to start working together as we approach Games year, with Tokyo 2020 on the horizon.
"I was delighted to see so many Paralympians take the time to cast their vote. The athlete voice is something the Commission is passionate about - we want to ensure athletes are truly represented, and I know our new members will step up to the challenge bringing their own individual skills, experience and enthusiasm."
The Commission acts as an advisory group to the BPA, representing the views of athletes across a wide range of issues, from classification to campaigns and kit.
With two additional places added to the Commission this year – reflecting the group's increasing involvement in the work of the BPA – there are now 12 members in total:
BPA Athletes' Commission
Helene Raynsford (Chair) – retired (Rowing)
Grace Clough (Rowing)
Lora Fachie (Cycling)
Charlotte Henshaw (Canoe)
Ali Jawad (Powerlifting)
Sean Rose - retired (Snowsport)
Libby Clegg (Athletics)
Natasha Baker (Equestrian)
Gaz Choudhry (Wheelchair Basketball)
Claire Taggart (Boccia)
Helen Scott (Cycling)
Tania Nadarajah (Archery)
Claire Cashmore (Triathlon), Sophie Christiansen (Equestrian), Ben Quilter (Judo) and Stef Reid (Athletics) all step down from the Commission after completing the maximum two four-year terms.
Mike Sharrock, Chief Executive of the BPA, commented: "The Athletes' Commission has an integral part to play in so many of the decisions made by the BPA and their informed and considered opinions and recommendations are highly valued.
"I'd like to thank the four departing Athletes' Commission members – Claire, Sophie, Ben and Stef - for all their hard work since joining the Commission at its inception in 2013 - and in helping to shape the Commission into what it is today. I'm very much looking forward to welcoming the new members, and continuing to work closely with the entire group, as we work towards Tokyo 2020 and beyond."
Join the ParalympicsGB movement
Join
The ParalympicsGB movement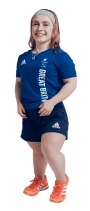 We may include relevant updates from our trusted partners, but will never sell your data on. We take your privacy seriously and you can opt out at any time Privacy Policy