Whiley a 'better person' on Wimbledon return
Motherhood has given returning former Wimbledon champion Jordanne Whiley a new lease of life off the court as well as a different motivation on it.
Since the birth of son Jackson in January 2018, wheelchair tennis star Whiley has been able to communicate and socialise in a way she has never done before.
The 27-year-old moved away from tennis in 2017 after winning four consecutive Wimbledon doubles titles with her partner Yui Kamiji, the last while 11 weeks pregnant, and like most elite sportspeople has suffered from injury in the past.
But her incredible return to the court in 2019 – culminating with a return to Wimbledon this week – has been accompanied by a rejuvenated attitude towards life away from it.
"I am a lot more chilled now where before I wasn't very good with people and I think I used to give off a bit of an intimidating demeanour but as a mum you can't really be like that," said Whiley, who also faces an opening-round singles match against Japanese partner Kamiji.
"Motherhood has made me a nicer person – it is a weird thing to say I know – but I am just a lot more relaxed now.
"When I was growing up I had it pretty tough and not many people wanted to talk to me so that spiralled into thinking I was unlikeable but now I am 'child-friendly' and Jackson has definitely made me a better person.
"Now I found myself talking to more people at competitions and being more welcoming and I think that comes from just liking myself more – I am both healthier and happier which is brilliant and it is translating onto the court too."
​

Whiley and Kamiji lifting the trophy in 2017
Now 18 months old, Jackson has accompanied his mother, who is a double Paralympic bronze medallist and a ten-time Grand Slam champion, to a major championship for the very first time.
Despite winning four of her first five singles events in 2019, Whiley was unable to reach Wimbledon by right but was granted a wildcard to try and reclaim her doubles title with Kamiji, while also attempting to net her first singles triumph at the All England Club.
"It's great to be back at Wimbledon without the morning sickness but now I have a crazy toddler with me instead so I will definitely be making use of the creche," she added.
"I was actually putting Jackson to bed when I got the e-mail [about the wildcard] and he started screaming and jumping with me and he didn't even know why – he just knew something good was happening.
"I am so excited to be back and I owe it to the club for giving me the wildcard and their belief in me and I am so grateful for that."
Joint the ParalympicsGB movement
Join
The ParalympicsGB movement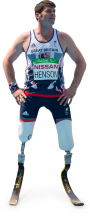 We may include relevant updates from our trusted partners, but will never sell your data on. We take your privacy seriously and you can opt out at any time Privacy Policy